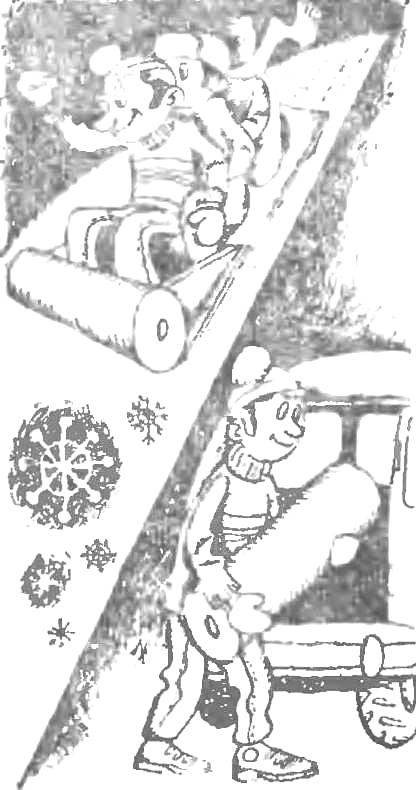 In the folded, or rather— in the collapsed view, such a sledge is very transportable, you can even carry them under one arm, and in the car trunk will fit several sledges-rolls. Design features and shape such that the glide slope is smooth, without jumps and shaking, and the stability (due to low centre of gravity) is so great that to fall off that sled is almost impossible.
The bottom of the sled is made of linoleum or similar material. On the upper side it is reinforced with wooden slats. The front part is formed by two round wooden washers Ø 225 mm and thickness 20 mm They are fastened to four cross rails in something like coil. Linoleum nailed to the cross slats and washers, small nails with broad heads. At the front of the sled are mounted two longitudinal pads having a triangular shape. Expansion joints with pads crossbars in the grooves. Front pads are attached to the washers with the bolts and wing nuts. In the same way
the pads are connected with the rear cross rail.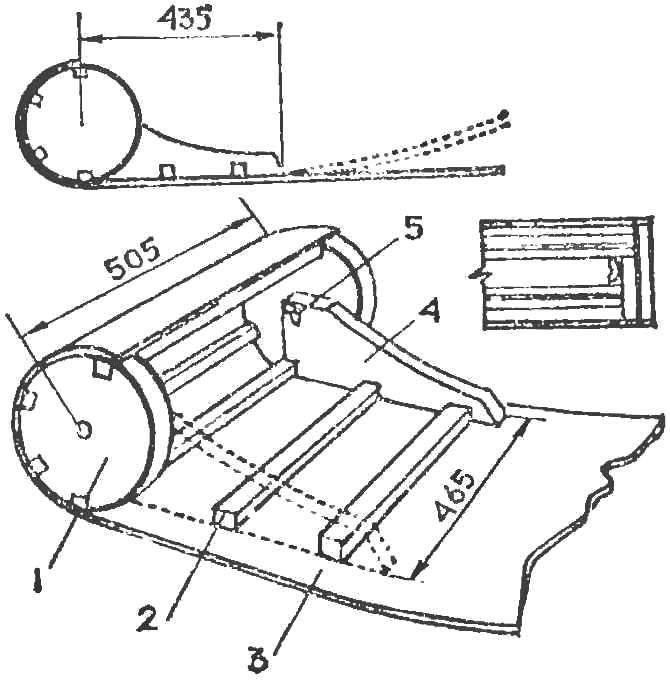 The design of the sleigh:
1 — spacer, 2 — roll rake; 3 — bottom, 4 — strip, 5 — screw M6 with nut-lamb.
In order for the sled to roll up into a roll,it is sufficient to Unscrew the wing nuts and the bottom of linoleum to wrap around the coil.
When the length of the sledge in expanded form about a meter on them it's possible to drive the three of us. To control the sled best with a stick, slowing down during its descent. To increase the slip coefficient of the lower part of the bottom is covered with parquet mastic or rubbed with wax.
Recommend to read
WOOD ENGINEERING
Say, in the Urals during the difficult years of chaos after the civil war an artificer built a car where everything was wooden, even the engine. However, if the wizard so the echo...
BOARD AND SAIL
MANUFACTURER GUCHKOV   Gucci rider is two arcs, glued wooden slats and the United front a metal band, framed with a soft rubber bumper. Shkotovo (rear) ends Guchkov have holes...