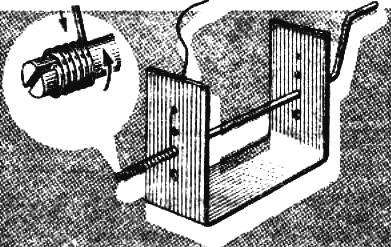 Here's a simple device, which you can use per minute to make any small spiral spring. A u-shaped bracket with the rows of holes and some steel tap wrenches of different diameters — all that is required. Insert in the corresponding hole of the bracket selection tool, thread through the top hole and the slot of the nose of the crank end of the wire And twist the handle.
Recommend to read
THE SIMULATOR IN THE YARD
Now many boys are addicted to "rolling": by all available means trying to build muscles, the "pump". I think they might be interested in offer just a simulator, which can easily be...
AND WILL LOOP HIDDEN
Offer homebrew. engaged in the manufacture or have manufactured furniture with doors mounted on piano hinges to replace them on domestic furniture, because the presence of piano hinges,...