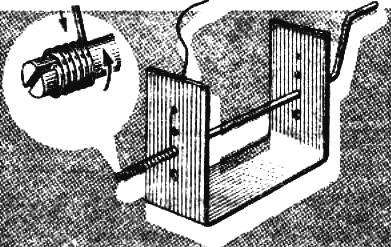 Here's a simple device, which you can use per minute to make any small spiral spring. A u-shaped bracket with the rows of holes and some steel tap wrenches of different diameters — all that is required. Insert in the corresponding hole of the bracket selection tool, thread through the top hole and the slot of the nose of the crank end of the wire And twist the handle.
Recommend to read
CLAMP IN SIZE
If you need a clamp of a certain size, it can be made from what is at hand: steel rod, strip, angle or profile. Making them need the bracket, drill holes in it and threaded (or welded...
RIVETS? ANY!
This simple device will allow, if necessary, to obtain the desired rivet diameter and length. Steel angles from rolled steel clamped in a vise, with the line connector mark and drill...