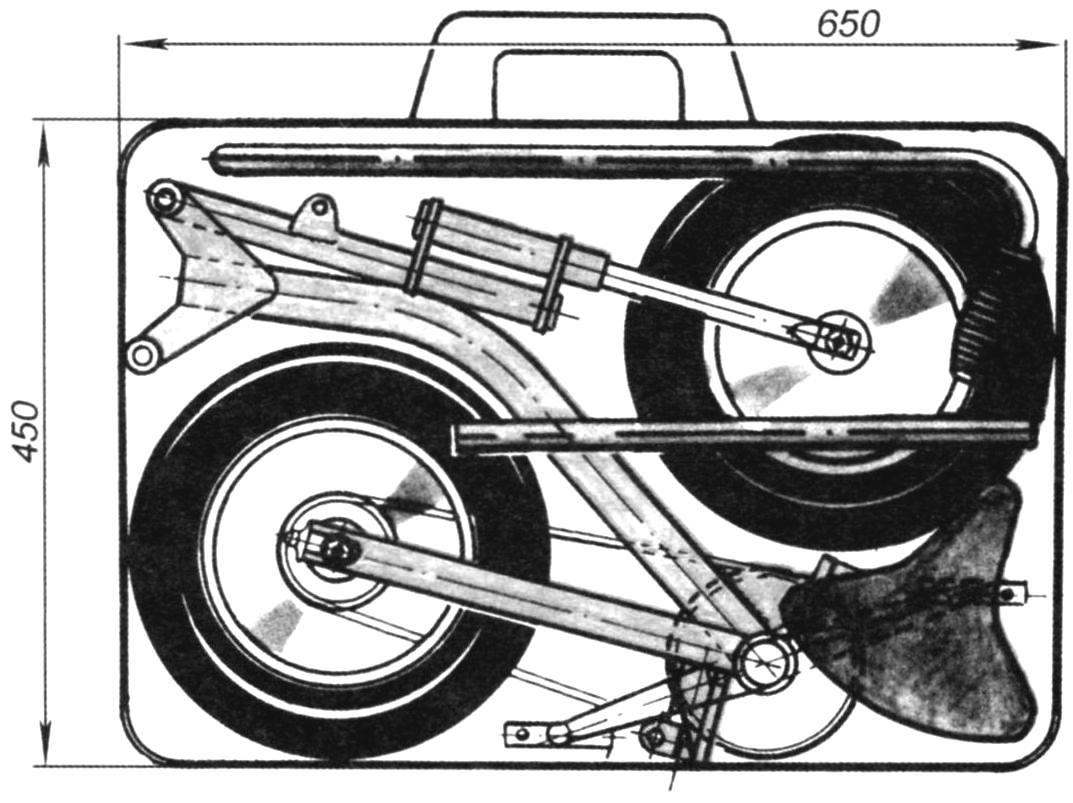 Folding bike nowadays. However, its dimensions even when folded, not too small, and to keep it at home and even more to transport on the bus or tram is not always convenient. I set a goal to develop a convenient folding bike smallest possible folded size. I wanted it to be easily transformed into a suitcase size with the usual "diplomat". I have to say, this was not achieved, but to construct a two-wheeled machine, which, after transformation to fit in a suitcase or bag with the size 650x450x150 mm, I still did.
The product has a wheel-quilted from a child's Bicycle (or scooter) with the tyre marking 250×56. If you have other wheels, have to make changes in the design of a folding Bicycle.
The frame of the bike – spinal type, it is bent from tubes with external diameter of 40 mm and a wall thickness of 2 – 2,5 mm. the Front frame is hinged a connecting node, comprising two shaped three-millimeter steel plates. To the frame plates are attached by welding. The holes for the hinge and the bolt retainer are drilled in the plates and is cut after welding. On the opposite side of the cap tube is welded to a bearing unit of the drive sprocket – the body of the carriage. Do it yourself do not necessarily fit the carriage from almost any bike. About cradle to cradle is welded to a fixing device by which the rear fork is securely joined with the frame. Notice that this node is best mounted in place during Assembly of the Bicycle. This will allow you to achieve what mate – and the one on the frame, and the one on the rear fork, clearly coincide when folding the bike. How it's done, I'll tell you later when we will talk about the Assembly of the two-wheeled bus.