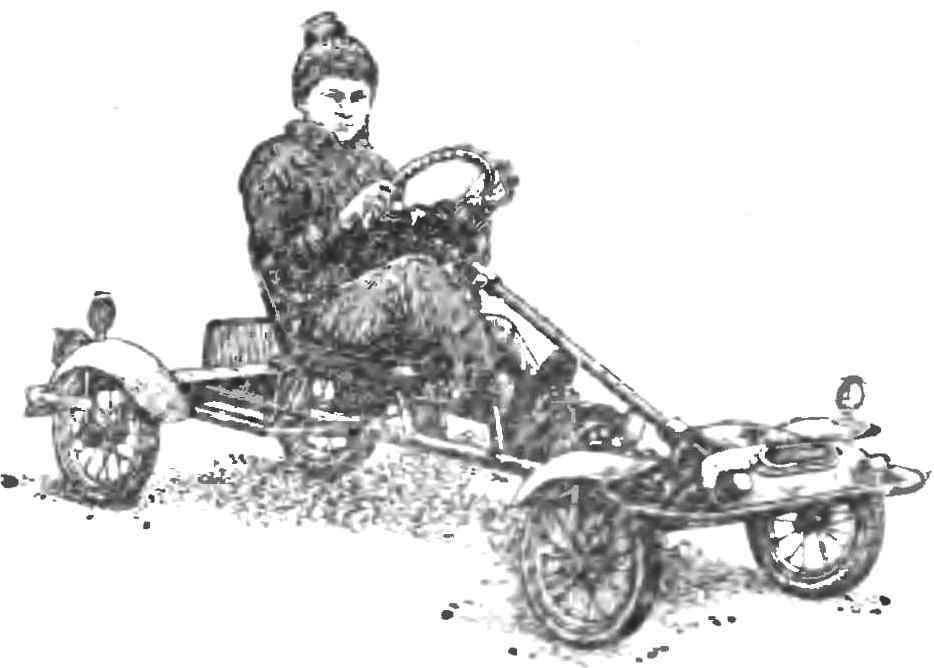 "Eaglet" designed and built in a circle "Young technician" Vitebsk oblsud. It is intended for initial 0бучения driving preschool and primary school children in avtogorodok. Organically combining the advantages of map and bike "Eaglet" has good stability and handling, good speed, and also involves simple design, and low noise.
For the manufacture of a Cycling card would not require a special or rare materials and details: the suitable cutting of steel sheets, tubes, rods, abundant bearings as well as components, from children's bicycles.
The base of the frame — longitudinal carrier beam length was 1400 mm. Ø 60 welded thereto a rear axle with a length of 600 mm, the ends of which are slightly tapered for easy attachment of plugs. The whole structure is strengthened by a curved tube Ø 30 mm.
Front axle pipe Ø 60 and a length of 500 mm. the Ends are also tapered and welded the knuckles and the middle of the axle — sleeve, designed to swivel with carrier beam.