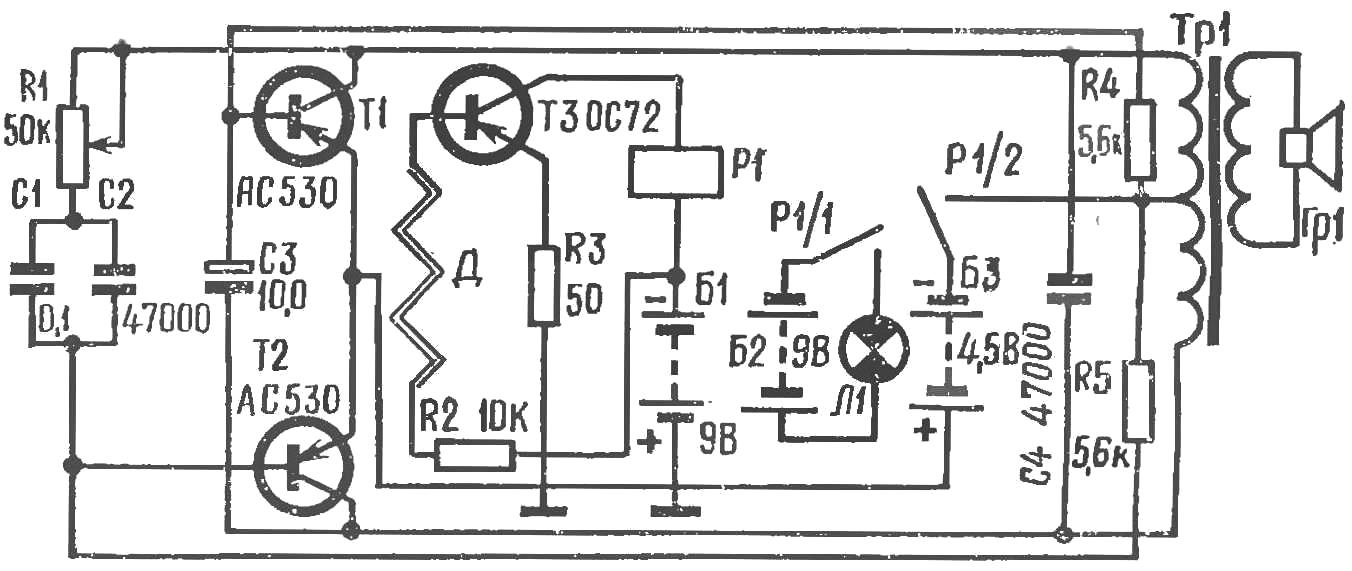 will inform you as soon as will fall the first drops of rain or humidity exceeds the norm. Device "look" and the fluid level in the reservoir tank.
Schematic of the device (see Fig.) collected three transistors. Sensor, two metal strips, at a distance of 1 mm from one another on the basis of insulating material, is inserted in the chain "base — collector" of the transistor T3. As soon as the humidity in the environment increases, the resistance between the contacts of the sensor Nada, which in turn causes the relay R1 in the collector circuit of T3. Contacts R1/1 and R1/2 respectively include light and sound alarm. The latter implements two-tone audio generator transistors T1, T2. "Color" select the sound to taste via the variable resistor R1.
The sensitivity of the device increases, if the sensor is to fall asleep fine table salt
In the circuit of the alarm device can be applied transistors МП39 — МП42, МП25, МП26 (T1—T3), the output transformer from a transistor radio (TP1), a small loudspeaker of the type 0,1 GD-6 (Гр1), variable resistor SP, SPO (R1).
Recommend to read
BLOW, ANOTHER BLOW — SAW IS READY!
The principle of operation of this device for cutting, or rather, cutting out of teeth on the blades for the hacksaw is simple. Its main part is a wheel with a cage, fortified it with...
CLAMP AND PIPE
When welding T-joints of pipes pre-combining them is difficult. Made a fixture consisting of two metal plates, studs, and two nuts, it is possible to securely lock the segments of pipe...