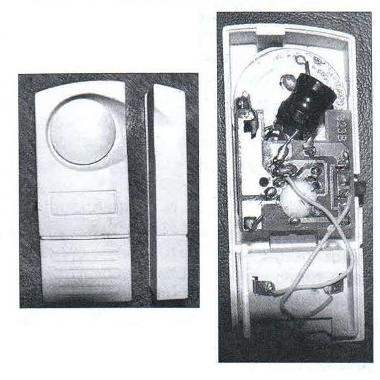 Today, any manufactured device can be supplemented, adapted to the specific household needs of Amateur radio and give the device a seemingly non-core second life.
For example, a widespread audible alarm, the appearance of which is shown in the photo, has excellent opportunities at low cost and small size.
The power node is powered by two AA batteries (total 3 V). The design consists of two parts (clearly visible in the photo) – in one is placed a permanent magnet, the other one is receiving node with generator AF and sensor-reed switch with normally closed contacts. Due to the autonomy of the power device is placed on doorways and sliding doors so that when the door is closed the permanent magnet was near the receiving node (the contacts of the reed switch was open), and when the door is opened the contacts of the reed switch are closed by feeding the control signal generator CC.
If you open the housing of the receiving (main) device, it turns out that inside is a Board with a "flooded" chip generator (which, if desired, be assembled with a 2…3 logic elements of microcircuits of series К561).
Concept copied from this node shown in the figure.
I wonder how is it such a powerful sound at a relatively low power. Depot within a few moments: on the VT1 transistor is assembled, the current amplifier, whereby the primary winding of the matching transformer receives the amplified rectangular pulses (from generator GN). When you activate the alarm in the base of the transistor VT1 (the output of the generator GN) is the amplitude of the pulses with an amplitude of 2.5 V, the collector VT1 amplitude is 4.5 V and the secondary winding of T1 amplitude (amplitude of pulses) is already just over 20.