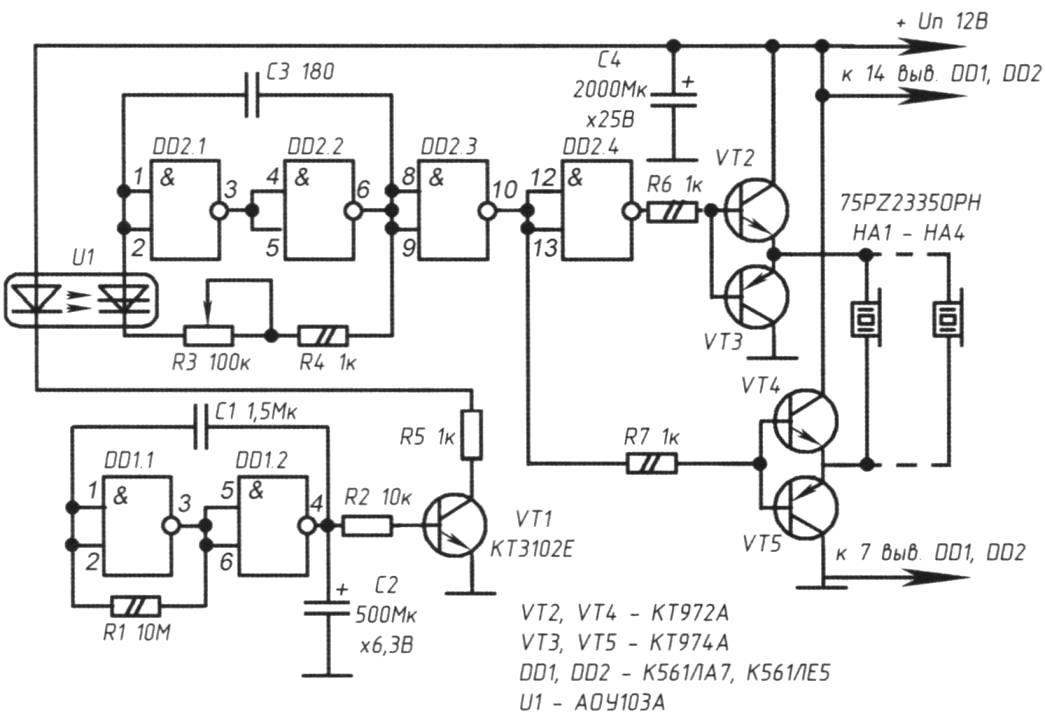 Protection of your house and garden from small rodents, insects relevant today. Various industrial devices "repellents" are on sale, but this same device is able to produce hams with a medium level of training. Unlike many schemes of such devices listed below are quite original. Known schemes are based on the ultrasonic frequency generator (uzch), "loaded" to the piezoelectric capsule. The frequency of these generators can be tailored (adjusted by changing the values of the RC circuit), but it is invariant under the operation of the device, and therefore of the generator. That is, any rodents, insects, birds or animals would not be "programmed" generator uzch (all of these entities are afraid of the discomfort of pulses of a certain frequency), over time, the device ceases to be effective due to rodents or insects exposure.
In the development discussed below, this disadvantage is absent because during the active operation of the device the oscillator frequency varies widely. Due to this, the proposed device can be used universally for many organisms, the presence of which is undesirable in areas, and especially in the house.
Ultrasonic vibrations with a frequency of 100 kHz are depressing in rats, mice and other small rodents, and variation 22 to 40 kHz can not stand dogs and cats.
Consider the electrical circuit of the deterrent device.
The device effectively in the area of 10 m2. If you need to increase the exposure area, it is necessary to include the piezoelectric cap through a powerful amplifier that can be implemented in a transistor circuit.