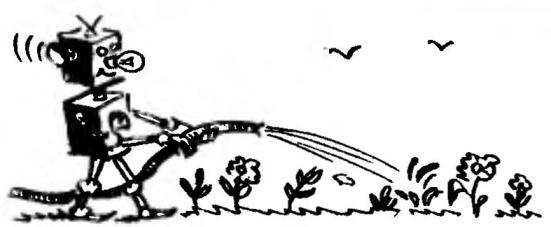 Offer favorite journal I developed a system of automatic watering and spraying plants, well-proven both in the room and in the greenhouse, Conservatory and flower garden. It includes two interrelated processes: "sensor — water" (Fig. 1) and automatic electronic control (Fig. 2). And if the first is easy even going to beginners, the second is better to entrust to those who have sufficient experience and knowledge in the field of electrical and radio engineering.
Originally designed to serve three (valuable for the author) plant, the system can be used as multi-channel. All channels are absolutely identical, which greatly facilitates their installation.
The algorithm of the system is such that most of the time automatics (except the duty photorelay) and the sensors are de-energized. This is done in order to increase the efficiency of the equipment, not to provoke stress in plants is constantly flowing through the ground current, and to prevent the so-called electrochemical polarization, causing a false alarm automation.
With the onset of daylight triggers the duty of the light barrier, which includes the power supply and takes 5-7 min (the time interval set main timer) 12-volt voltage to the pump motor. He begins to fill in the "hydraulics" water and spray the plants by venting excess water through nozzles performing the function of a safety valve.