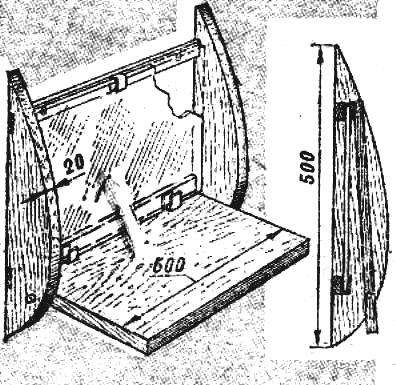 The schematic of this flip shelves became almost a classic and even entered one of the tutorials on technical drawing for school students. However, there is no limit to perfection. Its simple design can be augmented mirror, which is hinged to the connecting rod with bent tin petals. This mount makes it close. However, the mirror can be mounted on the lower surface of the shelf — and it will be hidden when it is tilting.
Recommend to read
BOUDOIR FOR YOUR FAVORITE
I want to share the experience of creating bugarcic (for your girlfriend of course). Thought of it as a wedding gift to my fiancee, because I wanted to make something beautiful, unique,...
ENTRANCE HALL: MODEST AND BEAUTIFUL
Not every house entrance hall allows the use of the proposed trade options wall-wardrobe: they tend to be designed to a spacious hallway. At the same time, even in a small hallway it...