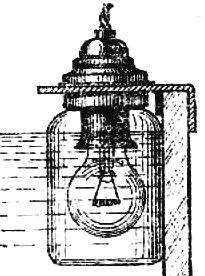 Most aquarium fish — loving, so even room temperature water to cool them, it must be heated. They need additional lighting. "Kill two birds" will allow such accommodations. On the plastic lid of a glass jar is attached to the socket with the plastic nut for the lamp shade and metal bracket. Remains screw frosted lamp 15 — 25W, cover the jar, put in the plug bracket rubber gasket, put the lantern on the wall of the aquarium: will the light and heat.
Recommend to read
SOLDERING IRON-IMPROMPTU
Burned a soldering iron, remained unfinished design... to Get out of the situation will help the soldering iron-impromptu. Cut out a 2-mm fiberglass charge, shape and size of a soldering...
NOT UNWOUND
What coil do not occur now in our everyday life and tape, and fishing, typewriter and film projector and all have one awkward feature: they are wound — tends to unwind. For all of them...