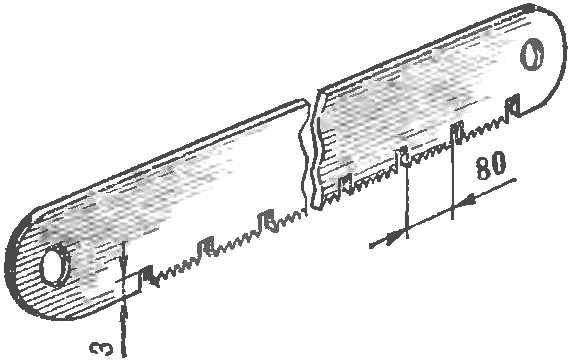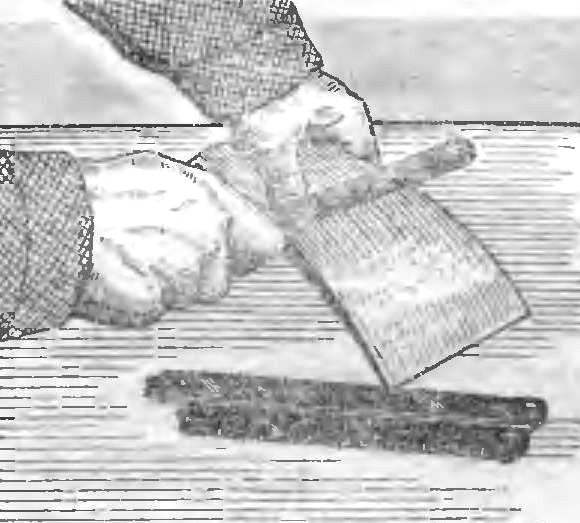 Blade of the hacksaw on the metal is quite fragile and often breaks. The lean master will never throw away the debris: manufacture of them auxiliary short nail file, a knife, a Bong.
I use a wad of wreckage as dracopoli file. Take 5-10 pieces, strung holes for any fasteners, and the other end with electrical tape to make the handle. A replacement file is not clogged with sawdust during operation, it is not necessary to clean with a wire brush — rapped about something, and you can continue the operation. It is particularly convenient to use this tool for soft materials: plastics, putty, non-ferrous metals, wood.
K. WILLINSKY, village of Berezovka, Grodno region
In the old or broken saw blade with a fine emery cloth around doing a number of cuts to a depth of about 3 mm and processed them a bone, and horn: with this revision, the teeth are not clogged make light work. Used in the manufacture of artistic articles made from mammoth ivory — were very pleased.
B. SMIRNOV, and the settlement of Chersky
Recommend to read
FIRE BRUSH
Appeared in the sale of original brushes for drawing, the pile of which is pressed into a special plastic handle, as the core of the pencil. To "sharpen" enough to hold the tip over a...
"TIT" IS IN YOUR HANDS
"Suli's not pie in the sky, give it to the bird in hand..." So says an old Russian proverb. Don't know whether it was guided by the famous Lithuanian designer Bronis Oszkinis, creating...