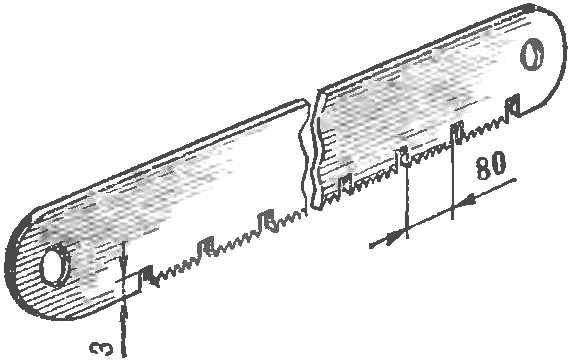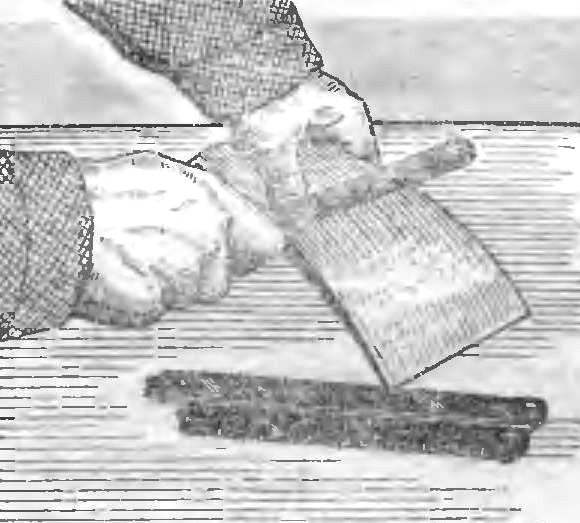 Blade of the hacksaw on the metal is quite fragile and often breaks. The lean master will never throw away the debris: manufacture of them auxiliary short nail file, a knife, a Bong.
I use a wad of wreckage as dracopoli file. Take 5-10 pieces, strung holes for any fasteners, and the other end with electrical tape to make the handle. A replacement file is not clogged with sawdust during operation, it is not necessary to clean with a wire brush — rapped about something, and you can continue the operation. It is particularly convenient to use this tool for soft materials: plastics, putty, non-ferrous metals, wood.
K. WILLINSKY, village of Berezovka, Grodno region
In the old or broken saw blade with a fine emery cloth around doing a number of cuts to a depth of about 3 mm and processed them a bone, and horn: with this revision, the teeth are not clogged make light work. Used in the manufacture of artistic articles made from mammoth ivory — were very pleased.
B. SMIRNOV, and the settlement of Chersky
Recommend to read
JIG SAW, BUT NOT SIMPLE!
Having trouble with conventional saws to jigsaws, I decided to try a homemade option out of the wire, causing its surface subiram shallow risks. This nail file and is on the planned...
RUNNERS FROM CLOTHESPINS
Making repairs in the bathroom, I thought, as if to hang a curtain rod from the film? After all, the intended metal "dog" with a wire "loops is designed more for the cord or ring, in...