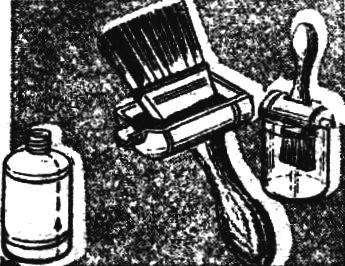 As a guard on a sword and protects the hand during a fight, and this simple device will protect it when working with a brush. Plastic bottle is cut open and his mate put on a pen — get a kind of microwindow, which will collect the excess paint flowing from the brush.
Recommend to read
SIMPLE LATHE
This small machine is designed for processing of wooden parts up to 200 mm and a diameter up to 50 mm. it can grind checkers and chess, arm to hand tools and more required in everyday...
SHEET CONDUCTOR
When you need to hammer a nail near the ledge of the wooden parts, then there is always the danger of damaging it. However, this will not happen if you use any metal or plastic strip...