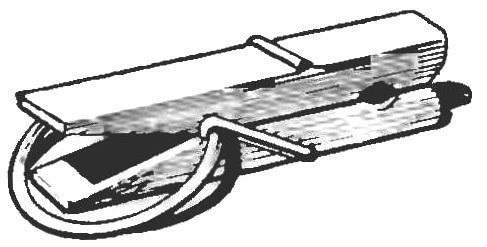 Clothespin is adapted for hanging on a rope or wire. If adapt it for suspension, say on a nail — there would be a more versatile clip. It turns out to do just that. Enter into the hole of the spring ring pendant is ready!
Recommend to read
SUPERIOR QUALITY — RELIABILITY
Good modelers know how important it is to provide reliable stop screw rezinomotornaya model in the transition planning. Offer readers the design of the front boss with the stopper (Fig....
FEEDER FOR PIGS
When we began to keep pigs, he soon discovered that wooden feeders are very short — lived-just for one season out of order. The trough of galvanized sheet steel kept longer — two to...