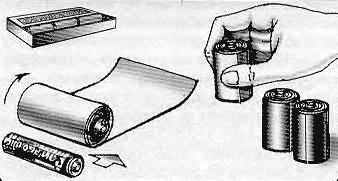 AA cells can be installed in a socket of larger diameter than itself, if you wrap it in several layers of paper, foam or any other available material suitable for this purpose. For example, a galvanic cell AAA can be installed in a standard socket AA.
If the length of the socket is greater than the length of a galvanic cell between their respective contacts should be inserted in a folded several times a piece of aluminum foil.
Recommend to read
RECHARGEABLE BATTERY
Sealed alkaline nucleotidase (NiCd) and Nickel-metallgidridnye (NiMH) batteries are finding increasing application not only in industrial devices but also in home appliances, replacing...
THE BATTERY IN THE CASSETTE
In many electrical devices the old issues (for example, ampervoltmetry Ts20, Ц4315, etc.) as an internal power source used battery KBS (L,X), sedss,7-4,1 In, unfortunately, which are...