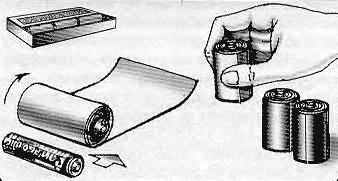 AA cells can be installed in a socket of larger diameter than itself, if you wrap it in several layers of paper, foam or any other available material suitable for this purpose. For example, a galvanic cell AAA can be installed in a standard socket AA.
If the length of the socket is greater than the length of a galvanic cell between their respective contacts should be inserted in a folded several times a piece of aluminum foil.
Recommend to read
"HOLDER" FOR MUGS
If your favorite ceramic mugs broke off the handle - do not rush to throw. What would replace the loss? It was enough to select the right diameter of plastic bottle and remove the top...
RENAULT AG-1 TAXI DE LA MARNE
The car company Les automobiles Renault index of AG was in its time the most popular not only in France but also in many other countries. Unpretentious, cheap — not coincidentally, these...