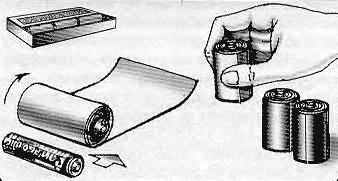 AA cells can be installed in a socket of larger diameter than itself, if you wrap it in several layers of paper, foam or any other available material suitable for this purpose. For example, a galvanic cell AAA can be installed in a standard socket AA.
If the length of the socket is greater than the length of a galvanic cell between their respective contacts should be inserted in a folded several times a piece of aluminum foil.
Recommend to read
WHAT IS NOT A SHOCK!
Usually furniture door furniture is hung on special hinges. They have one drawback — when you close the door slams. To prevent this from happening, offer points of contact to glue pieces...
PRESS PHOTOS…
To obtain good gloss on the pictures, you must tightly roll it to the plate elec-regencies. It is very convenient to do it with... washing machine, more specifically — squeezing rollers....