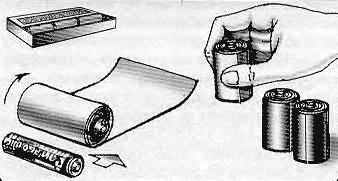 AA cells can be installed in a socket of larger diameter than itself, if you wrap it in several layers of paper, foam or any other available material suitable for this purpose. For example, a galvanic cell AAA can be installed in a standard socket AA.
If the length of the socket is greater than the length of a galvanic cell between their respective contacts should be inserted in a folded several times a piece of aluminum foil.
Recommend to read
DRAINAGE SECURED
is Drawn through the funnel and bound in a ring of nylon cord provide drainage when filling the vessel with liquid. Simultaneously, the loop will serve as a handle for hanging.        
ONE OF REDAN
Continuous improvement of engines and circuits cord boat allows them to develop increasingly high speed. Along with the design changes and the appearance of the apparatus Particularly...