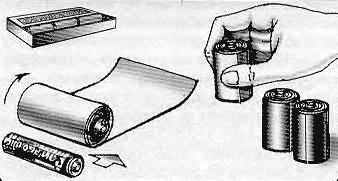 AA cells can be installed in a socket of larger diameter than itself, if you wrap it in several layers of paper, foam or any other available material suitable for this purpose. For example, a galvanic cell AAA can be installed in a standard socket AA.
If the length of the socket is greater than the length of a galvanic cell between their respective contacts should be inserted in a folded several times a piece of aluminum foil.
Recommend to read
AND TRUNK, THE AERODYNAMICS!
For a start I suggest the readers-to motorists to conduct a little experiment. Once outside the town, stop by high-speed stretch of highway and watch whizzing past you cars. However,...
ASSORTED TO BASKET
Lightweight and durable it turns out tuesok of birch solid "pipes", accurately taken with an older birch deck. It is good to walk with him in the forest for berries and mushrooms....