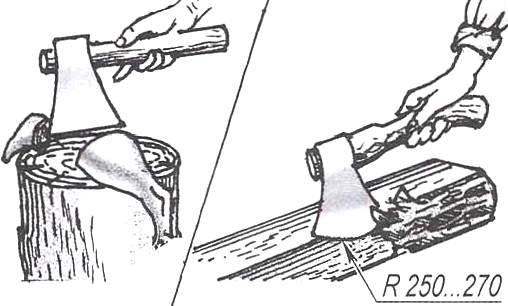 Ax with a straight blade is used successfully in meat cutting, but for chopping wood it is not suitable: there are much more efficient is the blade of the carpenter type, with a rounded sharp edge. It is better enters the wood easily separates the chips. Therefore, the axe of a carpenter blade must be rounded with a radius of 250 — 270 mm.
V. BORISOV
Recommend to read
THE FIREPOWER OF A SMALL ARTILLERY
"Mal Zolotnik Yes roads" — says a Russian proverb, and this fully can be attributed to the representative of small-artillery — mortar. And roads it is the fact that for over a hundred...
REFRIGERATOR… DOOR
In winter, many Housewives are storing on the balcony. But some products cannot be "deep freeze". In this case, it is very convenient to use the balcony doors. If they are dual (1) — in...