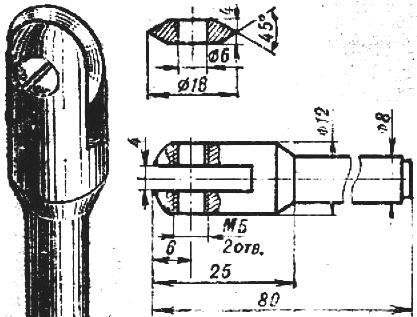 A great tool for making holes in concrete, ceramics, brick is obtained from a carbide cutting plate lathe cutter, driven on the grinding wheel to the shape of a disk with a tapered cutting edge. Mandrel for mounting in the Chuck is machined from steel rod Ø 12 mm. Disc is mounted on the axial groove with the screw M5.
V. KNYAZEV, Leningrad
Recommend to read
Insurance for drill
Drill chuck, in particular manual, is not always able to keep the drill from turning when machining hard metals or release of the cutting edges of metal. It solves the problem of the...
CAN OPENER-GREGORATOS
The knife, which I did, the commercially available and opens cans faster. Its basis was a steel tube and rod, a part of her. The end of the rod is bent, it is inserted, and then open...