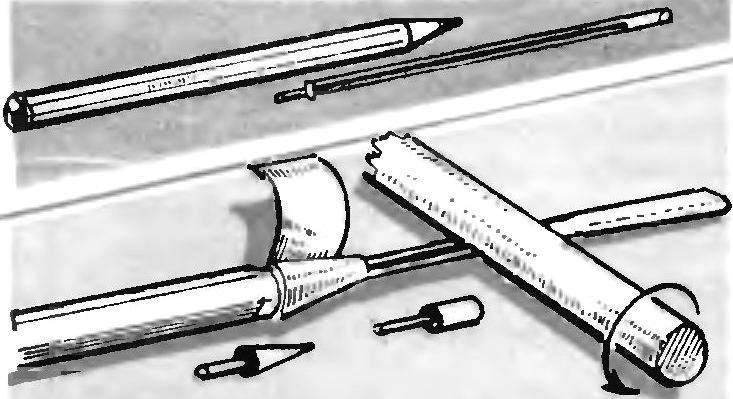 If beautiful ballpoint pen single-use (no refills) spent paste, it can be refilled using a conventional rod and a piece of polyvinyl tape. To begin with pliers or a dull knife remove the stylus pen and a new rod. Align their ends and wrap the joint with adhesive tape or strip of adhesive tape. It is necessary to ride along the rod, flattening it, some cylindrical object and the cavity of the handle is squeezed out of the fill-stem paste. Replace the stylus – pen and ready to work.
A. Larionov
Recommend to read
THE DEPTH GAUGE IN A HURRY
Often in the manufacture of the part to measure the depth of the groove or a blind hole and there is no caliper with depth gauge. In this case, but you can use a conventional ruler and...
COLLET-UNIVERSAL
Clutch pencil, calculated on a fat pencil, can find unexpected applications. For example, help in cases when a small screw you need to tighten in tight spaces; turn into a ballpoint pen,...