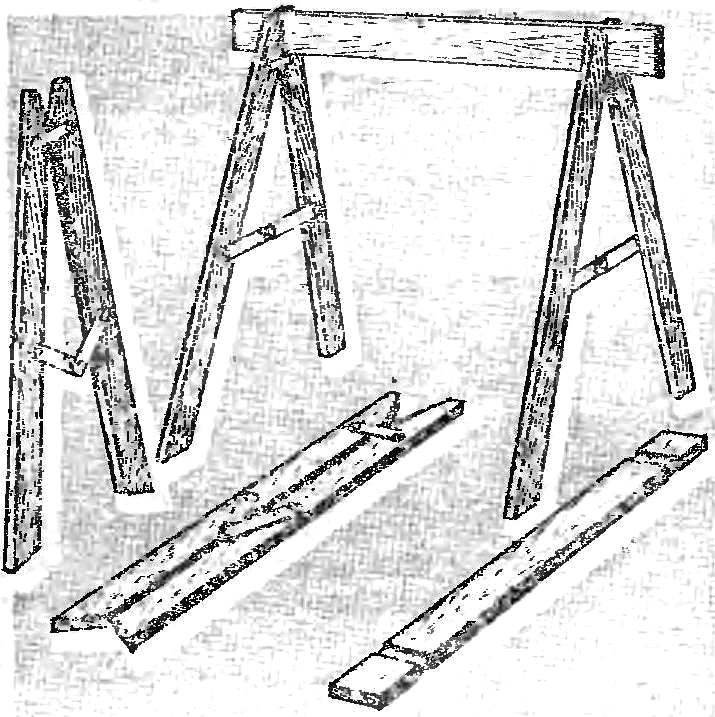 The most common situations, ending domestic injuries is when trying to perform any operation with stools or ladders but still trying to reach there, where to stand poor stand is not enough. Everyone understands that for the period of repair or construction to arrange a better platform — the decking boards or shields, relying on goats. However, it's usually heavy and awkward structures that are difficult to rearrange, they are bulky to store. Make here are foldable, and they will serve you not one time, because of the support and operedila understand, turning into compact elements. The pillar has a top hinge and folding brace in the middle, and in the crossmember on both sides done the grooves for the top supports.
Recommend to read
"BROAD-SHOULDERED" GOATS
If you have extensive repairs to the walls or ceiling, a ladder is not enough: we need a reliable platform. So, and goats, which will form master. To simplify this preliminary work, use...
THE TRESTLES-IMPROMPTU
That usually takes home the wizard when you need to saw off the bar or the Board? Most often, kitchen stool, judging by the scars left on it by the saw. Meanwhile, it is easy to make...