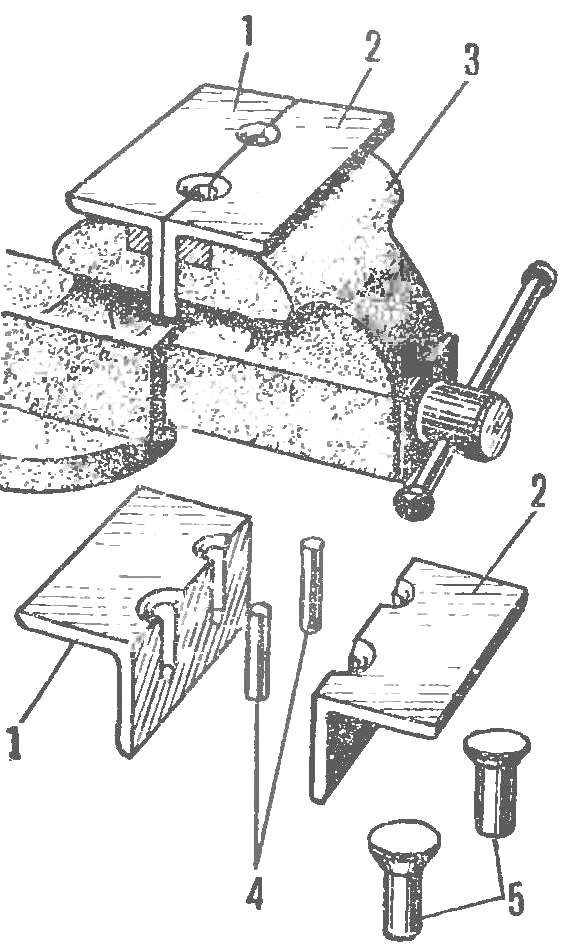 This simple device will allow, if necessary, to obtain the desired rivet diameter and length. Steel angles from rolled steel clamped in a vise, with the line connector mark and drill holes of the required depth and diameter. Now, loosening the grip, inserted into the hole of the workpiece is of soft wire, the diameter of which corresponds to the desired size of rivet. The device is again clamped in the vise, and workpiece clench; the excess head is removed with a file.
Device for rivets:
1, 2, — corners with protertymi, 3 — vise, 4 — workpiece, 5 — rivet.
V. STAHEEV, Belgorod
Recommend to read
CLAMP IN SIZE
If you need a clamp of a certain size, it can be made from what is at hand: steel rod, strip, angle or profile. Making them need the bracket, drill holes in it and threaded (or welded...
SOCKET — LOCK
To keep the inquisitive child" from dangerous "experience" with an electric shock will help a simple device. In textolite disc Ø 38 mm and a thickness of 2 mm drilled Central hole Ø 3 mm...