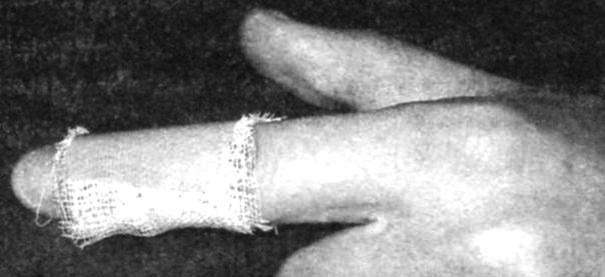 Beginning homebrew is often the inexperience or negligence cause a wound to themselves, especially on the fingers. Not enough to have in the workshop first aid kit, should still be able to bandage, and the bandage at the end to tie that without help not easy to do. Not to make "whiskers" on the end of the bandage, which is fastened by a knot, the easier the end of the bandage attach the bandage to the main strip of adhesive or adhesive tape.
S. KATZ
Recommend to read
MAGNETIC STAND — SOLDERING IRON
From old, broken loudspeaker, you can make a stand for electric soldering iron. The main advantage of this design — magnetic clip prevents accidental drop of hot tool on the table.   ...
"BIRD" IN THE SKY
The need for such airplane appeared when our young conovici already know the basics of management "phanerogam", and for them it is time to explore the simplest aerobatics. "Tit" (so was...