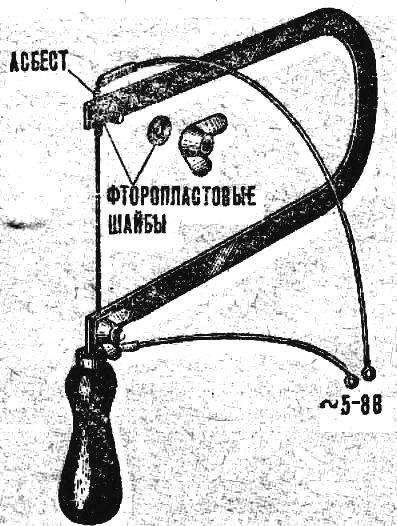 If ordinary jigsaw is saws clamp the nichrome wire from the spiral electric, and submit it a voltage of about 5 V, cutting the plexiglass will go smoothly. The current in the 6-8 And will warm up the wire so that it will easily proplavit the most intricate contour. The cut will turn out smooth, without chipping and burrs. To isolate one of the ends of the "electrolize" from the body of the jig saw can be of asbestos thread or PTFE washers. To engage in "ELECTROVIPRYAMITEL" better in the fresh air or in the Studio with good ventilation.
Recommend to read
MIDDLE BOMBER YAK-2
THE MIDDLE BOMBER, THE YAK-2. Scale model 1:33. In February 1939 at the Moscow Central airfield Frunze has a nice twin-engined monoplane dvuhkilevoe. Experienced eye it was clear that...
INSTEAD OF SPLIT
For reliability of bolted connection in terms of vibration under the nut usually enclose a split spring washer: its sharp edges prevent the loosening of fasteners. If any washers at...