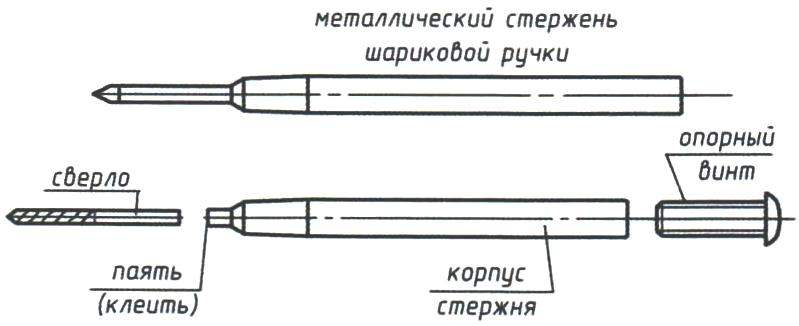 This device (see figure) is used for drilling holes of small diameter, which is often required in the manufacture of small structures, models, repair of printed circuit boards. For the manufacture of tools need use metal rod ballpoint, pre-cleaned from the paste. The end of the rod with the ball removed. Drill which is attached to the stem, preparing a hole in the thin part. After that, the drill is introduced into the rod and sealed (or glued), and in the upper part of the rod is inserted freely rotating bearing screw with an annular groove. The end of the drill mounted on the drill holes, gently press down on the head of the screw and rotate the rod clockwise. Two to three revolutions is enough to drill the copper foil layer and eight to ten rpm -for making holes in the Micarta thickness 2 – 2.5 mm. it is best to make a set of such tools with drill bits of different diameters.
Recommend to read
HANGER FOR BATH
I bought a plastic baby bath. Comfortable, beautiful, but where is her store! Decided it was better just to hang on the wall in the bathroom horizontally. This is enough for two...
GENERATOR TREMOLO
Device, a scheme which offers the journal "Funk-shau" (Germany), is used to create different sound effects together with musical instruments. It is made in the form of a set-top box or a...