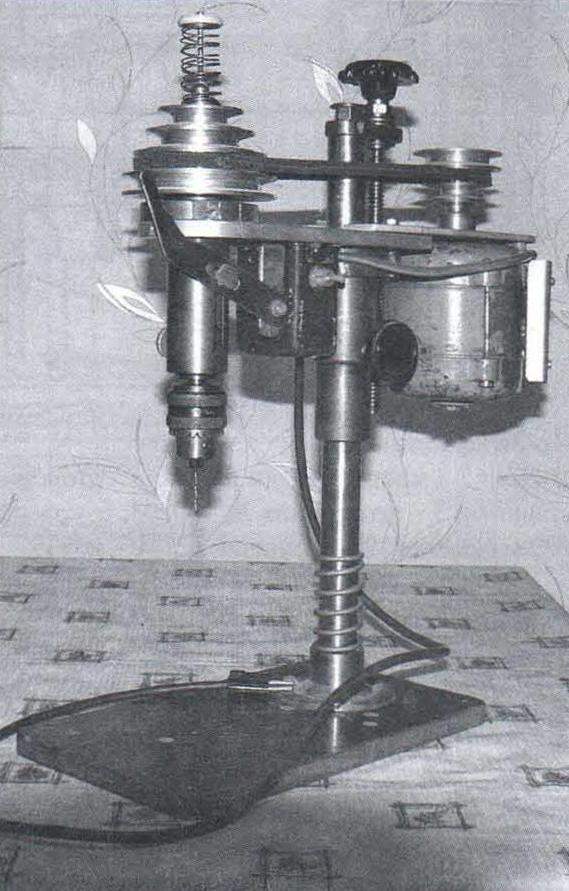 There was a time when to the store to buy any device, especially metal cutting machine tools was difficult. And was expensive, and a run of outlets had. Today to buy such a product just just pay. But the homebrew is still not translated, offering a new design made based on their capabilities. With the technical creativity of Feodor Nikitovich, Kuhtenko our readers are already familiar (see "M-K" N° 6 – 2012). This time we offer the more complex its design – drilling machine, constructed primarily from what the designer had on hand, though without turning and milling operations has not done.
The base of the machine (bed) and a Desk serves as a textolite plate size 300×175 mm and thickness 16 mm. thereto by suitable bolts, turned the heel (by the way, it can be welded) serving as a support and holder of the main stand (columns). The latter is a steel cylindrical rod with a diameter of 28 mm and a length of 430 mm. One end machined to a length of 20 mm and it is threaded M12. This threaded peg subsequently put the bracket screw, which secure it with lock nut (although it is fine and normal). The bracket is made of duralumin sheet thickness of 10 mm. Steel lead screw with trapezoidal thread on the Tg 16×2 length of 200 mm is taken ready – this is some clamps. At its end is mounted the flywheel, and turn the screw. Related sliding nut raises console for a production site (it falls under its own weight when the reverse rotation of the screw), adjusting its position on the rack depending on the height of the workpiece. For "gross" movement of the working node at the front serves as the docking sleeve, which backs suspension (matrix) and the nut is fixed on the rack retaining screw M6 with plastic head button. To insure against breakage of the working tool, on the rack there is mounted a compression spring, cushioning the working node in case of "free" drop.
A work node is conventionally called part of the mechanism of the machine consisting of drive and spindle head mounted on their own consoles.