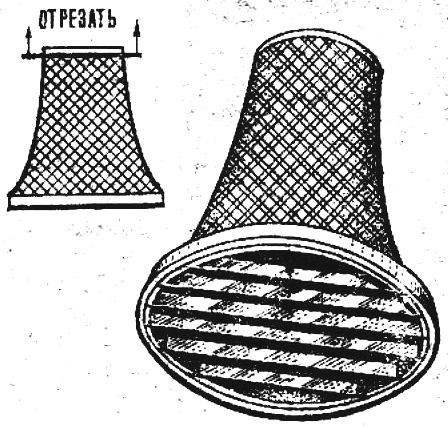 This slicer will be glad every housewife: one push — and the potato turns into a number of round slices, the second — and ready for roasting delicious straw, and the third slide gives the same cubes — the-blanks for salad! Now cooking will go faster, and hands will be protected from accidental cuts.
To make the slicer easy. As the body I used a plastic vase for flowers, which cut off the bottom, and on the other end made a series of parallel cuts to a depth of 5 mm. Distance between the grooves of 5 to 10 mm.
Cutting elements are strips of stainless steel with a thickness of 0.3 — 0.5 mm and a width of 5 mm. Prior to Assembly one of the edges should be slightly sharpen. To keep the knives from moving along the groove on the body wearing a thin ring cut from a sheet of plexiglass. The final consolidation of the knives in the slots and epoxy glue.
Y. ORLOV, Troitsk, Moscow region
Recommend to read
MIXER "SECOND"
Housewives know to cook the most simple salad you need, pulping vegetables, to work hard with a knife or spatula. And how much labor demand, for example, Korean dishes of carrots and...
DOUBLE KIT
Submarine kit built by St. Petersburg-Mikhail Puchkov. The double submarine (captain and passenger). Length - 5400 mm, width 1150 mm, height - 1300 mm, sediment - 660 mm, weight - 3 tons...