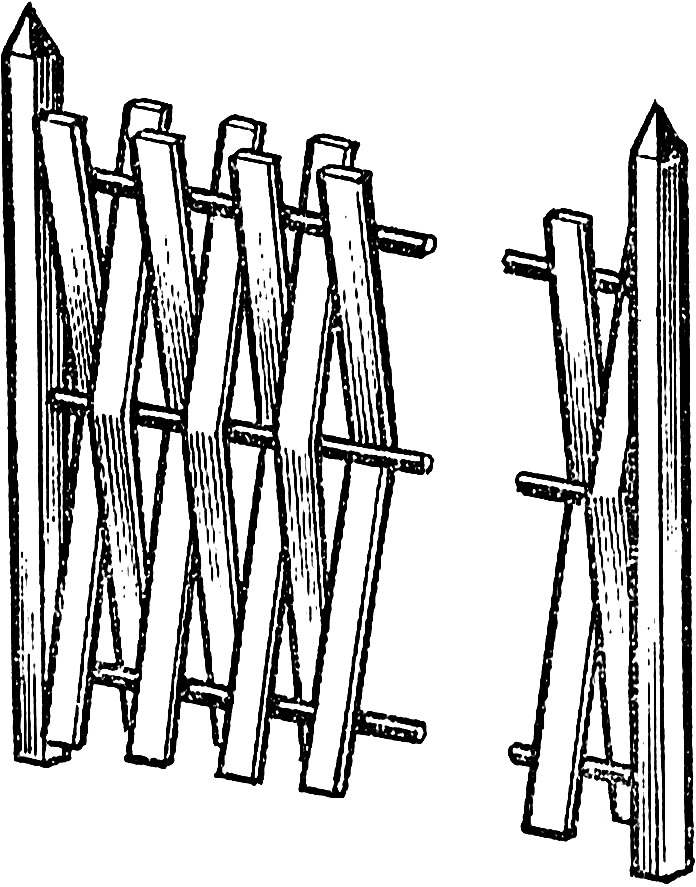 When you walk through the streets of the villages, country and Sadovo-garden partnership, after thinking about how dull look of fences around the plots. Usually is a fence or a solid fence, often lop-sided from time to time, carelessly painted. But the fence — a kind of "facade" of your garden. Moreover, in combination with the greens it protects the territory.
Beautiful fence is solved in the uniform architectural complex with entrances. Today we offer growers a simple design of the fence is a modern fence with gate options.
Before proceeding to the erection of fencing, measure the perimeter of the site and divide it into equal segments (at the gate). On the borders of their connection pour in columns with a height of 1500 mm. it is Now possible to produce boards of the fence. To do this in two side boards and drill three holes for the pipes forming the horizontal crossbar. Steel pipe (you can use tap Ø 25 mm) is fixed in the holes of the side boards of the receiving frame. Subsequent work on filling it more convenient to plane, placing the frame horizontally. Consistently miss every Board on top of one extreme of the pipe and then under the middle and again on top of the other extreme. The following Board is skipped in the reverse order and is located close to the previous one. Assembled in this way, the shield turns hard and does not require additional fastening elements. Through the side boards, the finished boards are fastened to the posts. To assemble the fence in panel method is convenient if you decide to replace your old fence with new, leaving the old posts on the site.