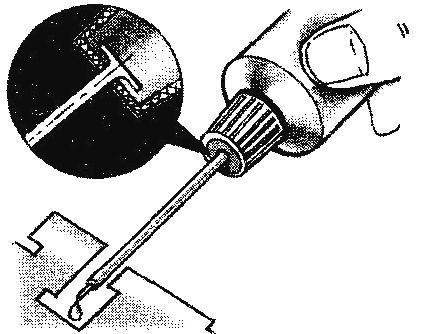 If the empty tube of toothpaste to fill the rear end with petroleum jelly or machine oil, and the tube to make a hole and feed it through the rod from a ball pen, as shown in the figure—get a convenient oil can to lubricate the parts in hard to reach places small mechanisms — such as alarm clocks or electric razors.
Recommend to read
TWO BLADES AND ONE MOTOR
Svobodnaya model helicopter. As they say, is new — is well forgotten old. Not so long ago we introduced readers model airplanes from the simplest Svobodnaya model helicopter — judging by...
WHY STING "JADWIGA"?
Bee venom — a valuable and irreplaceable raw material for many drugs — get different. For example, when using the device "Jadwiga". It takes on a special frame-dosborne placed in the...