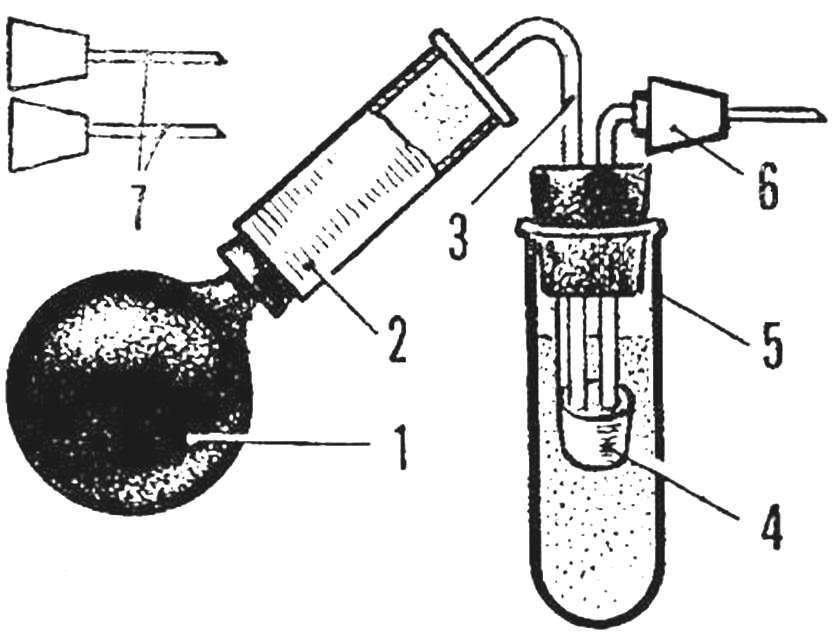 The fact that under natural conditions perform wind and insects at the breeding stations have to do manually by the staff: in the hybridization of tree species they hold dusting brushes or cotton swabs. However, in the morning when this work is most effective, dusting is difficult because of the moisture deposited inside plastic bags isolation of inflorescences. At day same time violated the clean dusting. An ingenious device proposed by a senior researcher of the Central research Institute of forest genetics and breeding V. Iyevlev, will greatly help the scientists.
Externally, the device resembles an ordinary spray. It consists of a blower, the handle (brass rifle cartridge) with a cotton filter on the inside of the connecting pipe Ø 3-4 mm glass cylinder for pollen with a Cup dispenser and spray nozzle with interchangeable needles from medical or veterinary syringe. The parts are connected by soldering and with rubber stoppers. Used for sealing PVC tape.
Filterability:
1 — rubber bulb, 2 — handle filter, 3 — connecting pipe, 4 — Cup dispenser, 5 — glass container with pollen, 6 — spray head, 7 — interchangeable needle.
The instrument is capable of dusting directly inside the package of the insulator through an incision in his area or puncture in the wall. Pollen "injected" with air flow, chased by a blower through the filter and the main tank. Elastic jet captures the pollen from the dispenser and makes it out of the sprayer, aiming at the branch on the inside of the insulator.
Recommend to read
ARROW SO THE ARROW!
Produced digital multimeters (like many other devices) have on the arrow switch in color that almost merges with the body. Arrow will be more visible, if you paint with white enamel or...
PROGRAMMATOR FOR CHIPS
Hams, self-repairing computers and modern means of automation or manufacturing such equipment, are faced sometimes with the need to record information in the chip programmable logical...