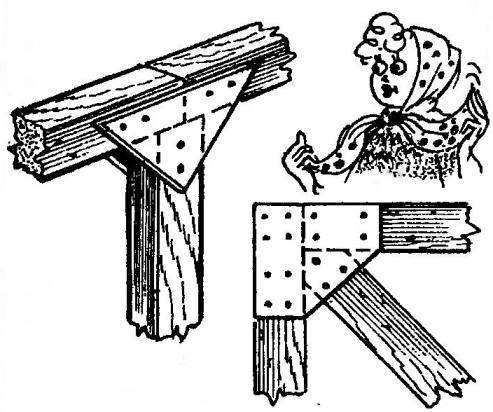 Sometimes you need to connect two wooden bars. And this is to carry out in detail a mortise and tenon or notching. However, to connect the parts, and using the plywood gussets and nails, using only a hacksaw and a hammer.
In the same way can be combined and three bars, leaving them intact (grooves, spikes and bruskami). It is important in the erection of temporary structures, which are subject to disassembly.
I. GLUKHOV, G. a R a n with it, Mordovia
Recommend to read
MULTITUBE GIANTS
Ministerial reshuffle in France in the 90-ies of the XIX century in the absence of common ideas in the creation of the Navy not only politicians, but also among experts has led to what...
CHANUNAVAIL FLOWER GARDEN
Offer for all lovers of the cultivation of flowers on the balcony and very simple design Flower pots serve plastic containers of shampoo or other detergent with cropped bottoms. And ia...