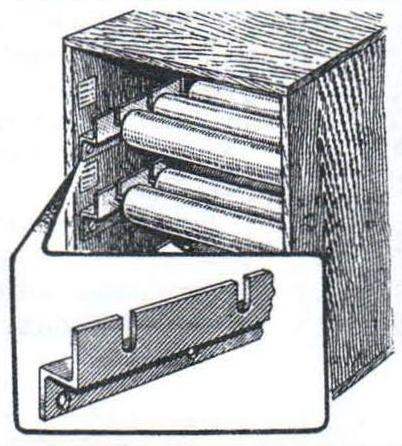 Rolls of tracing paper, graph paper or drawing conveniently stored not in the supine position, and… hanging. The advantages of this method of storage is obvious: better use the volume of the enclosure, faster be found the necessary drawings, and finally, they don't crease.
To hang the rolls, it is enough to put them on the spokes-hangers and place them in the slots of the brackets attached to the walls of the enclosure. The brackets are made of a suitable profile cross-section, the spokes – of thick steel wire.
I propose to put the rolls on the brackets at the top. But you can hang them from the bottom. The brackets are fastened down cuts, and changing the configuration of these slots.
V.
FEDOTOV, Saint-Petersburg
Recommend to read
AUTOMATIC PROTECTION OF ELECTRONIC CIRCUITS
Electronic devices based on microprocessors and integrated circuits are less sensitive to the parameters of the supply voltage. To ensure the safe operation of these devices use voltage...
LEARN TO CONTROL YOURSELVES
What is auditory training? Is the ability to replace eight hours of sleep sorokapyatiletnyaya rest. This exclusive attention, phenomenal memory, the ability to "turn off" the pain, stop...