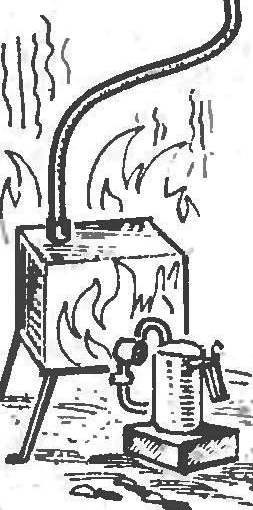 The frozen column gives a lot of trouble to the villagers: have to using the campfire to heat it for a long time. Offers a simple way of unfreezing columns. For this metal container with a lead pipe, which is put on the rubber hose wash down water. The free end of Spanga entered into the crane column and heat capacity soldering pump or a fire. Hot steam, acting upon the hose, to melt the ice.
V. RADKOV, Naberezhnye Chelny
Recommend to read
LOADER BRAND "CUT"
Shiny from the oil the heavy stack of sheets... How to approach it, how to raise and load? Until recently, this operation was quite time-consuming — each pack got tangled up in the rope...
TO HELP THE GLAND
Utilities are widely used shut-off valves — they are in all water inlets in the house and each apartment. Earlier these devices were made of iron or steel: casing — cast iron, and the...