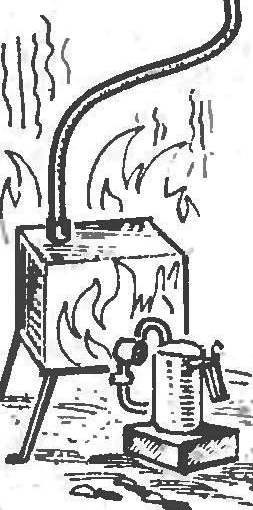 The frozen column gives a lot of trouble to the villagers: have to using the campfire to heat it for a long time. Offers a simple way of unfreezing columns. For this metal container with a lead pipe, which is put on the rubber hose wash down water. The free end of Spanga entered into the crane column and heat capacity soldering pump or a fire. Hot steam, acting upon the hose, to melt the ice.
V. RADKOV, Naberezhnye Chelny
Recommend to read
DRYING WATER…
In this issue we introduce young innovators, participants of operation "the Introduction" with an unusual method of drying developed in Nikolaev. At our request about it, say the authors...
PAINT FOR TITANIUM
I want to give advice to those who deal with a variety of hot water or heating installations — what to paint places that are exposed to high temperatures. It is known that none of the...