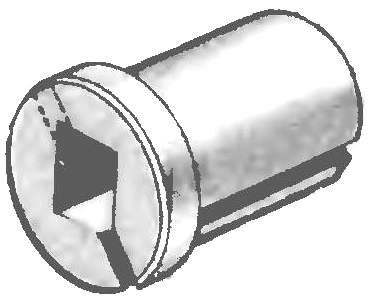 Most automatic screw machines have trehkanatnoy the self-centering, which is easy to fix the workpiece cylindrical or hexagonal shape. And if it is of square section! In this case, a simple fixture, which is a clamp bushing of soft metal cylinder with a flange in the center of which done square hole and side — notch. Powerlevels Hole first, and then had a file to square shape. The cut made by the hacksaw. If you intend to process billets of different cross sections, it is possible to provide a second slot (shown dotted) below the bushing was split.
A. VASILENKO
Recommend to read
A THERMOMETER FOR ALL
In many cities on the lively streets and highways have electronic thermometers. Some of them, with light of a mercury column, like an ordinary thermometer, the other made in the form of...
COMBINE… CEDAR
Not an easy job, manually to collect in the forest cones pine nuts. In addition, because the cones themselves, not the nuts. They need to be removed and this is done with the help of the...