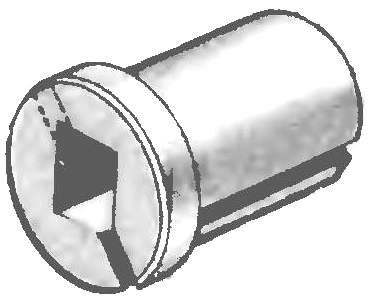 Most automatic screw machines have trehkanatnoy the self-centering, which is easy to fix the workpiece cylindrical or hexagonal shape. And if it is of square section! In this case, a simple fixture, which is a clamp bushing of soft metal cylinder with a flange in the center of which done square hole and side — notch. Powerlevels Hole first, and then had a file to square shape. The cut made by the hacksaw. If you intend to process billets of different cross sections, it is possible to provide a second slot (shown dotted) below the bushing was split.
A. VASILENKO
Recommend to read
EXPRESS CARTRIDGE
To various tool holders, cartridges and heads, clamping a working tool in addition to reliability, is increasingly imposed and such requirements as simplicity, convenience and...
THE SECOND LIFE OF AEROSOLS
Cylinders from under the aerosol can be used repeatedly, if you apply a small improvement. This requires only valve from the tire of a racing bike... and a little ingenuity.   THE...