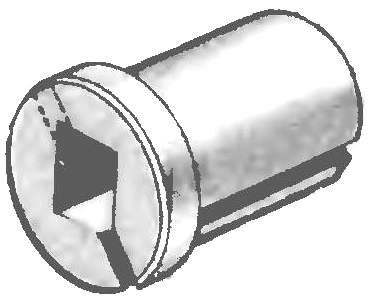 Most automatic screw machines have trehkanatnoy the self-centering, which is easy to fix the workpiece cylindrical or hexagonal shape. And if it is of square section! In this case, a simple fixture, which is a clamp bushing of soft metal cylinder with a flange in the center of which done square hole and side — notch. Powerlevels Hole first, and then had a file to square shape. The cut made by the hacksaw. If you intend to process billets of different cross sections, it is possible to provide a second slot (shown dotted) below the bushing was split.
A. VASILENKO
Recommend to read
DOOR INSTEAD OF DRAWERS
Plastic drawers commonly used in modern domestic furniture have a long life. After a few years of service, they warp, can't move on rails, and then crumble. Do the drawers only...
THE SIMPLEST SENSOR
In today's electronic equipment is widely used touch control. Option sensor available for beginners repetition hams, offers Czech magazine "Amaterske Radio". If you touch the plate,...