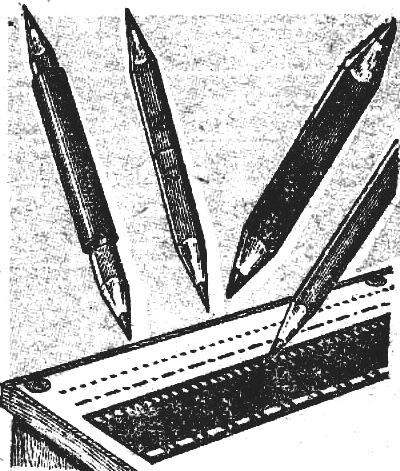 A short pencil is more convenient to work with the knob-extension of thin-walled tube. But in this case to use the stylus fails. Offer stick "Shorty" end of another pencil. The connection to the PVA to be robust enough. You can also do two-way pencils: colored or with different hardness of the lead. A piece of photographic film is a great stencil for drawing works: it can be used with one flick of a pencil to hold the dotted, and slightly changing the perforation — dash-dotted line.
S. SHISHKIN, Izhevsk
Recommend to read
LIFEGUARD SUBMERSIBLE PUMPS
In the process of exploitation of the deep (submersible) pumps often break. To catch them on the outside of the flange for lifting from the well is impossible due to the tight fit of the...
BOAT IS A COMPROMISE, OR RESERVES TRADITIONAL SCHEME
What is to be the new model? This question with relentless regularity occurs before each athlete, the venerable and the very young, immediately after the end of the season. The stage...