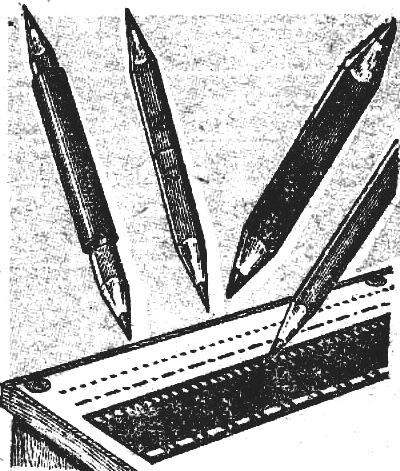 A short pencil is more convenient to work with the knob-extension of thin-walled tube. But in this case to use the stylus fails. Offer stick "Shorty" end of another pencil. The connection to the PVA to be robust enough. You can also do two-way pencils: colored or with different hardness of the lead. A piece of photographic film is a great stencil for drawing works: it can be used with one flick of a pencil to hold the dotted, and slightly changing the perforation — dash-dotted line.
S. SHISHKIN, Izhevsk
Recommend to read
COLLET-UNIVERSAL
Clutch pencil, calculated on a fat pencil, can find unexpected applications. For example, help in cases when a small screw you need to tighten in tight spaces; turn into a ballpoint pen,...
BRAND? NO NEGATIVES
So the photographers happened: please films the attention and care, and the negative — no. First Packed in frames, cellophane, and plastic bags, and the second often just stored in a...