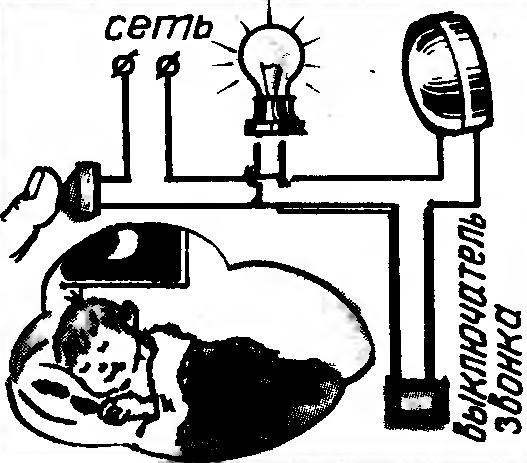 …The baby was cranky for a long time and finally fell asleep. A few minutes later the doorbell rings. And, of course, the baby wakes up, and now to calm his unlikely…
I propose a simple addition to the doorbell. Just say that it's good for calls that are switched through the circuit of 220 V. Here we need a cartridge with a bulb and the switch. Everything is connected as shown in the figure. In normal mode when you press the button is actuated and a bell, and a lamp in the "quiet" — only lamp.
I. GALKIN, engineer
Recommend to read
THE SIMPLEST FLASHLIGHT
Yes, it's probably easier to not think. For the manufacture of such "Firefly" will need only a flat battery, the light bulb is 3.5 V and the two rubber rings or a bit of adhesive tape....
EASY AND CONVENIENT
The voltage is from 1 to 12 In intervals of a single oxen allows to obtain a transformer, the circuit of which is shown in the figure. If desired, the switching is easy to implement...