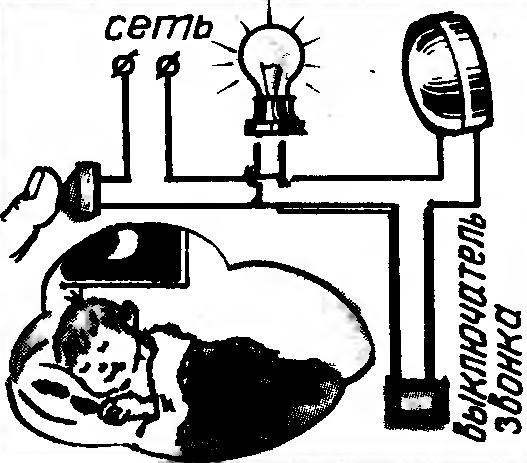 …The baby was cranky for a long time and finally fell asleep. A few minutes later the doorbell rings. And, of course, the baby wakes up, and now to calm his unlikely…
I propose a simple addition to the doorbell. Just say that it's good for calls that are switched through the circuit of 220 V. Here we need a cartridge with a bulb and the switch. Everything is connected as shown in the figure. In normal mode when you press the button is actuated and a bell, and a lamp in the "quiet" — only lamp.
I. GALKIN, engineer
Recommend to read
THE BATTERY IN THE CASSETTE
In many electrical devices the old issues (for example, ampervoltmetry Ts20, Ц4315, etc.) as an internal power source used battery KBS (L,X), sedss,7-4,1 In, unfortunately, which are...
"METALKA" FOAM
Today, perhaps, it is difficult to find a more affordable material suitable for the manufacture of flying model than the foam. It is different, but is most common packing or "ball"....