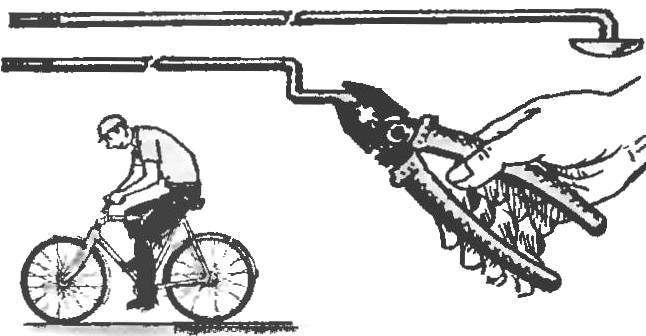 The spokes of the wheels of many bikes have the same diameter and the threads on the end, for example, "Ural", "Kama", "Salute", "Student", "Levushka", and others. However, the length of the spokes, almost all different, and Ural's needles are the longest, and therefore a few pieces from him that I keep in reserve. In the absence of regular spokes these brands do so. Take the needle from "Ural", pruned to the desired size and prepare the shank with pliers, as shown in the figure. Setting the needle in place — RICHT wheel.
A. Matveichuk, Zavodoukovsk, Tyumen region.
Recommend to read
RETRO SHELF FOR KITCHEN
What the shelf life is not I had to do for the home and garden. After all, not every purchase can fit into the interior of the apartment: the shape does not like it, the size is not...
FLEXIBLE NOTCHED
Blanks of sheet metal with a thickness of 3 - 5mm will be more accurate and easier to bend at home if they are pre-trimmed along the fold lines using the grinder (and if the workpiece is...