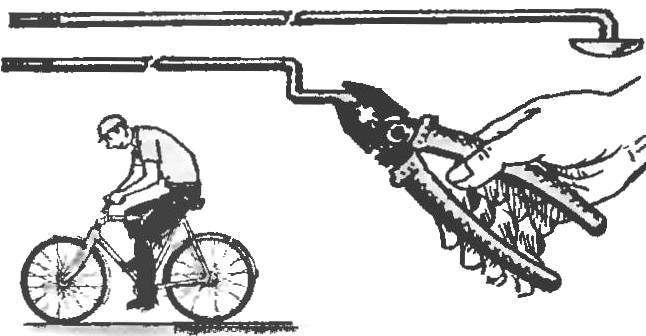 The spokes of the wheels of many bikes have the same diameter and the threads on the end, for example, "Ural", "Kama", "Salute", "Student", "Levushka", and others. However, the length of the spokes, almost all different, and Ural's needles are the longest, and therefore a few pieces from him that I keep in reserve. In the absence of regular spokes these brands do so. Take the needle from "Ural", pruned to the desired size and prepare the shank with pliers, as shown in the figure. Setting the needle in place — RICHT wheel.
A. Matveichuk, Zavodoukovsk, Tyumen region.
Recommend to read
WORKS ABRASIVE
It often happens that a brand new, recently purchased, pasatizhi, pliers, wire cutters, etc. can neither open nor close. The easiest way to prepare the instrument for operation with...
WHERE WAS THE THREAD
Many hams are faced with the problem: the drilling micro-holes in the manufacture of printed circuit boards! Drill a small diameter even in the cities is rare, and they often poma. My...