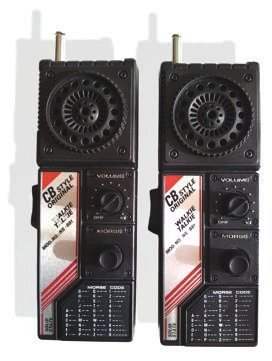 Want to lead a conversation about "retraining" relatively useless or obsolete electronic devices in the useful and necessary. A lot of stuff gathering dust "in the bins" radio Amateur may get a second life. This is especially true in economically crisis periods, and not only the world but also a family. For example, a portable radio (transceiver) citizen's band (CB), shown in the photo, are unlikely to even be interested in Amateur radio.
The transceiver consists of a generator and amplifier of low frequency (LF), as well as sender and receiver node with carrier frequency 26, 9 MHz. In different variants of this type of transceivers installed quartz can vary in frequency, and the transistors have the names С9013. The high-pass part is performed on the transistor VT1, two-stage ULF — VT2 and VT3; this amplifier is the most important element of the design discharge the battery.
When placed close to the transmitter and receiver of one set is impossible to determine the frequency; in some instances the care of the operating frequency from the nominal value up to 2 MHz. On the setting of the frequency — tuned coil core circuit. However, when adjusting the contour of a conventional metal screwdriver inevitable additional error due to the changed terminal screwdriver field in the circuit. The adjustment process required a set of non-conductive material. Therefore, in such a relatively simple design, which is similar to many radio stations walkie-talkie, in my opinion, it makes no sense to achieve the maximum matching frequency between the transmitter and receiver. I guess it meant and manufacturers of the device. Given the low power transceiver, with a precise setting of the carrier frequencies will be able to increase the range of communication for a couple of hundred meters, and in urban areas — and less.