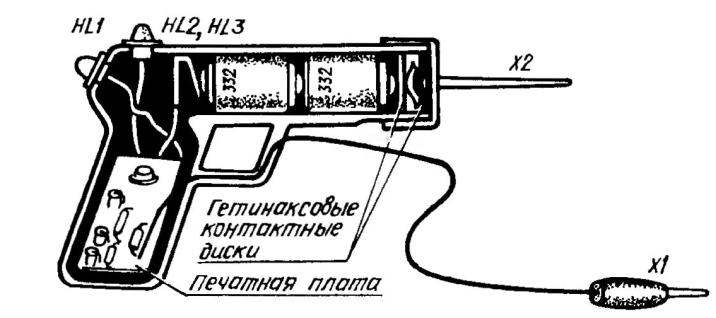 Primitive "control print" — electroputere with two wires and the lamp — not the best device for "continuity" of electric circuits. Commercially available testers and isometry is also called a gift, especially when you have to deal with modern technology, and they are not cheap. So we have electricians to create probes-indicators — versatile, compact and reliable. On one of these devices tell the magazine "modelist-Konstruktor" No. 5 for the year 1990.
Make yourself this probe, developed, by the way, a talented representative of the rural hinterland, at first, could not get enough. The device is really a reliable helper rigger, allowing not only to check the electrical circuit, but separate, elements — diodes, transistors, capacitors, resistors. Assembled in the housing of the toy gun and equipped with styli, it also makes it possible to control AC and DC voltage from 1 to 400 V, to detect the phase and zero wire of a network, to assess the insulation resistance of electrical equipment.
However, over time there has been a discrepancy between the real capabilities of the probe indicator and the requirements, which makes such devices increasingly complex electroradiotechnics. In particular, ceased to hold the complexity of the detection voltage in DC circuits and finding out, is extinguished alarm led on the de-energized line wire or short circuit. Therefore, the device had to be upgraded. Changes are minimal (details НL2, NL3, R5 and section "a" on the circuit Board), but universal probe indicator is now again in business.