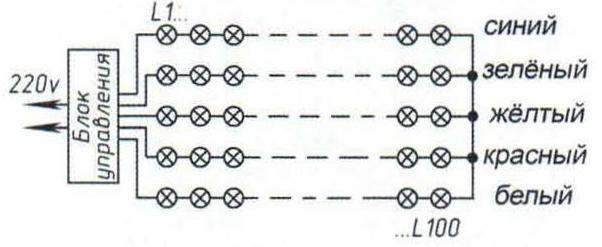 Rosli new year holidays. Very pleasing to the eye colorful lights of garlands on the Christmas tree. However, the "old new year" series of light bulbs in garlands of Chinese production had thinned out considerably. After the holidays I had garlands to fix. I think that this problem might have many. So will share his experience in this matter.
To get started give a circuit (without electronics) the scheme of garlands (Fig.1). From the diagram it is visible that bulbs of the same color are connected in series.
The problem is that bulbs (and 100) are connected by soldering, and these places should be isolated polipropilenovye tubes. That is, access to electric conductors no. And if you have an open connection or a blown bulb (and often several) to find the fault is not very simple.