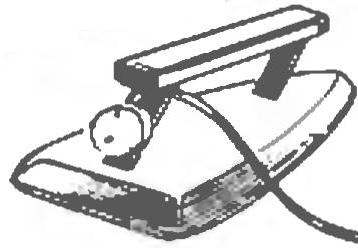 during the period covering the country's public deficit even the most that neither is ordinary iron burst in a number of regions in the category of "trudnoreshaemyh". And is — alas! — quite expensive. But for the resourceful craftsman to make the original iron, as they say, no problem. You only need to thoroughly want… unlike the hero of the once popular song where the words are in the title of this material, the success of saadeldin guaranteed.
The design of The proposed iron are simple (see illustration ) and to available for making at home anyone ever in your life dealt with nojoumi metal file and a drill
So, take the neighbors iron and laid it on a sheet of 3-5 mm of aluminum, draw a pencil or a Scriber along the contour Marking soles future iron ready. Saw a hacksaw or a jig saw, its contour, file down the edges, sakiroglu them. Then in the resulting workpiece drill 2 holes for rivets with head wpoty. A fifth of all cases, it is possible to tell, behind
In the queue — handle. Cut a strip from a sheet of aluminum or steel, 2 mm thick, file down the edges. And drilling it according to the drawing hole, curve, form the basis of the handle. And crafting from a block of wood and plywood top and bottom nakedki, connect them with screws. Ready rivet the handle to the sole plate. After processing the last sanding and then felt around with the paste to obtain a mirror surface, the rear handles attach with screws M4 with nuts pad, made of plug with remote current-carrying pins and drilled two holes with a diameter of 1 mm.