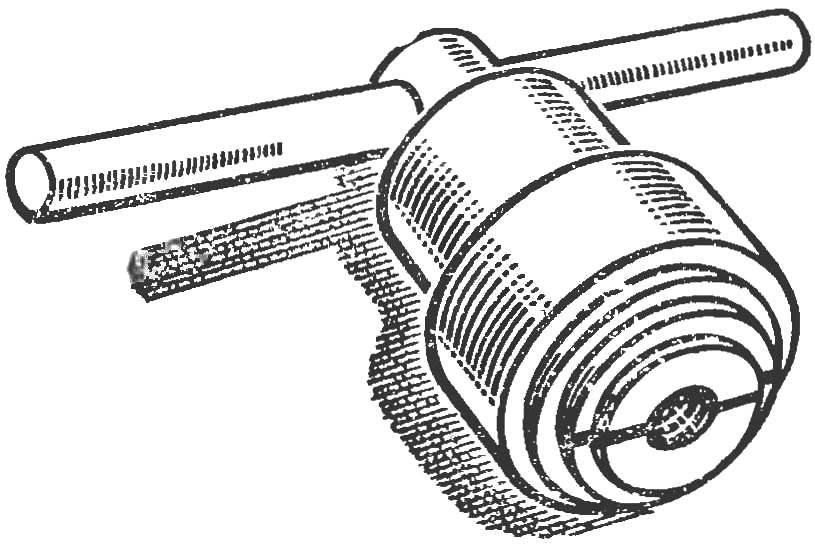 For screwing a screw includes a head, screw slot. And studs there is nothing: only a cylindrical body with thread. For screwing it in parts, there are special tools, but many of them are uncomfortable to use or has significant disadvantage as an unnecessary waste of time before and after the screwing — on training tool for surgery or subsequent release.
Can't say that about a new lathe chucks for stilettos developed by n? Minsk machine-tool plant named after S. M. Kirov. They consist of a body with an inner conical hole, and inserted into his cone of nuts, cut into two halves. Polovici imposed at the end of the studs, they are coming, clamping, the tapered part of the Chuck and the stud is then dutifully screwed in her screw hole and details.
After the stud is screwed, you will not have to rotate the cartridge back to Unscrew the nut: simply pulling the handle of the cartridge, and the nut will pop out of the cone and split into two halves, instantly freeing the pin.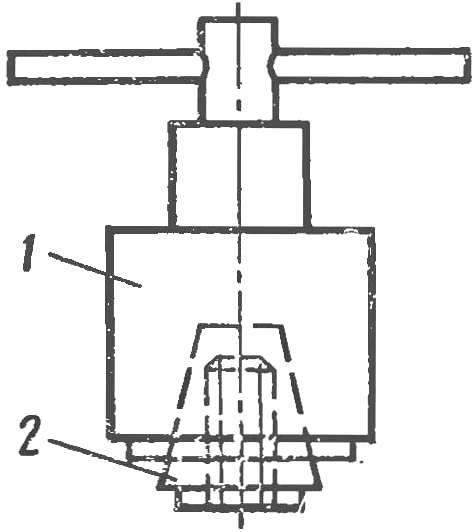 Composite cartridge length studs:
1 — housing with handle, 2 — split nut.
The plant created a whole range of similar cartridges with nuts for studs with any thread. The undoubted advantage of a new tool and that it does not spoil the thread of the studs, while maintaining its quality and increases the productivity of the collectors and installers.
Recommend to read
UK-4: MORE ABOUT THE NEW FEATURES
In last year's fourth issue of the journal, I read an article about Razakhatskaya V. the machine "Skillful hands". There is proposed a device for drilling. But it will have to cut off part...
CARTRIDGE-GUN ARKHANGELSK
Vocational school graduates, finishing school, to protect diploma. They are often self-development: engineering and manufacturing of complex parts, assemblies, or fixtures....