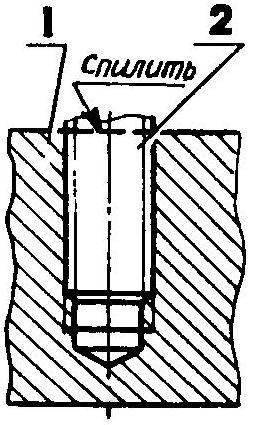 Hard turns (as, indeed, trudnosmyvaemye) fastener (screw or stud) face many troubles, both small and large. The latter can be safely attributed the breakage in the body parts of the stud or screw, as the extraction residue of the fastener from a threaded hole or socket parts is very thin, requires great accuracy. The reasons of breakages of fasteners can be several: excess torque; the use of low-grade threaded products; "welding" of the parts and threads of the fastener due to corrosion or high-temperature heating, and others.
Cliffs fasteners can be divided into three kinds: the first is when part of the fastener, remaining in the body parts that protrude above the surface; the second when breakage occurred of the fastener flush with the surface of the part; and finally the third when a broken stud or screw occurred below the surface of the part. This distinction is made because each of these types of breakages of hardware requires its own approach to the extraction residue.
The cliff is located above the surface of the part
If the portion of the shank of the broken bolt (stud) protrudes above the surface of the part (for example, lost one head of the fastener), soaked beforehand for a few times the threads in the nest a special fluid or, in a pinch, kerosene and after a suitable time, you can still try to turn the rest of the fastener, exciting using the appropriate special tools: crimping pliers, pipe wrench, vise, etc.