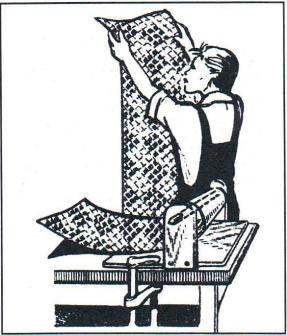 Most of those who have decided to paste over the wall Wallpaper flat on their own, most often the whole day "bow" to each ordinary cloth, usually as a pack of cut of the Wallpaper have for spreading their glue directly on the floor, for lack of a suitable length of the table.
However, the Polish magazine "zrobi Sam" suggests that such work can be performed on an ordinary table, and it is important! – even alone: you simply have to modify the technology and use simple homemade device that provides besides the possibility to do without tiring bows -to prepare panels of standing.
Easy
Indeed, the device fit quite simply available on the materials and manufacture of any house master. Judge for yourself.
Roll of Wallpaper is placed on a wooden rod that is inserted horizontally in two small stand connected-stand, fixed with clamps on one end of the table.