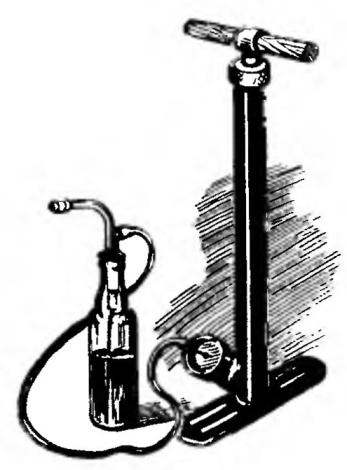 Sorry, when intensive work on the preparation of the model or sample furniture negated by poor-quality color. Look at this product — plain, brush marks, air bubbles, clots…
Once my friend gave me a homemade spray gun, commonly called a spray gun. It was rough (even the choke was off), splashed and often clogged. But I liked inherent in its design idea: he worked from ordinary automobile pump.
I decided to improve the gun. Increased the diameter of spray from 8 to 10 mm; hole diameter: 0.8 mm spray head was adjusted to 1 mm so that the fitting does not fall off, reinforced soldering bracket.
The advantages of the new gun was obvious: it is no longer "spat" with a large change in pressure; a cloud of spray enamel you can increase or decrease until it disappears. Adjustable spray head has the opportunity to achieve the smallest spray paint. The coating was smooth and of high quality. To work this gun was a pleasure.