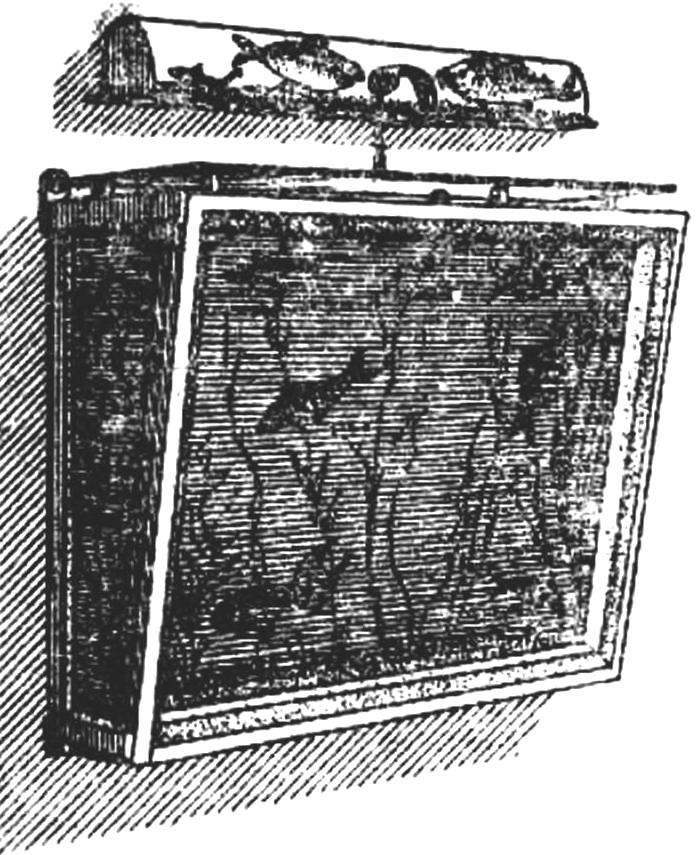 Decorates the interior of any room wall aquarium, made in the form of pictures. In structure it resembles an aquarium-screen, but with a sloping front wall. Due to this, if the suspension on the wall and the corresponding registration is obtained "live" carotene. Another advantage: no need any stand, table or Cabinet, not zagromozhdaet the window sill. The it and fishes it is no secret that "screens" the water is poorly oxygenated, and in the film bordering the air the surface will be the same amount twice.
Made aquarium (see picture). from dural corners 25X25 mm. the Number and size of workpiece: 700 mm — 4 PCs., 210 mm, 120 mm, 495 mm and 500 mm — 2 PCs They are connected by rivets Ø 3 mm with countersunk head. To razzenkovyvajut rivet holes are required on the inner side of the frame. Forming a front four corners A, b, D, and the rear two corners C1, D1, are transferred to the connecting PLoS A1, B1. For that, you need to make two hinges from stainless steel sheet with a thickness of 2 mm. the Marking and the mounting of hinges similar to the layout of the angles A1, B1.
Four strips (width 20 mm) with a length of 650 mm, length 445 mm and 450 mm will need to adjust the level of machine with the inner side of the frame under the mounting glass. They are best made of a sheet of aluminum 2.5 mm thick or aluminium sheet of the same thickness. After RA]marks their drill along the axis of symmetry with a pitch of 100 mm, and then countersinks holes for rivets, is applied on the inner side of the frame and attached at the edges; the other hole is drilled together with the corners of the frame and also riveted.