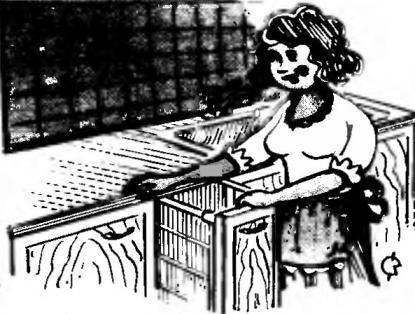 When you decide to make your kitchen a more modern, comfortable and spacious, make sure that it had everything you might need in the economy. In this post we will introduce you to the principle of manning the kitchen in a variety of subjects, which occupy a minimum of space.
"OWNER"DRYER. Recently very popular among Housewives began folding the metal sheets. Invaluable advantage is that the total length of the bars on which to hang clothes, three or four times the length of the average kitchen. Accordingly and place in the dryer can be much more than a clothesline stretched from wall to wall. However, the folding dryer has a flaw to hide her in the apartment very difficult.
We offer homemade folding dryer arranged almost the same as the table-"owner", which is only 200 mm long worktop kitchen units. The case of such dryers is going, plastic coated chipboards of thickness 20 mm. they are Joined by standard furniture corners, which can be purchased complete with M6 screws with countersunk heads and threaded bushings. In the enclosure base are secured four furniture wheel.