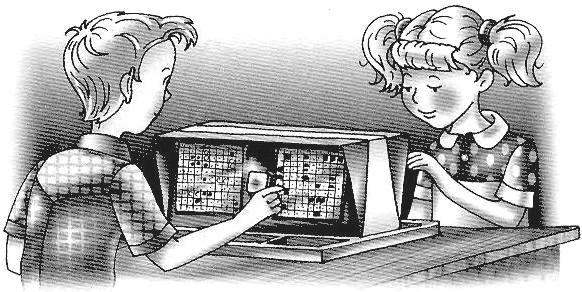 "Battleship"… Who do not know this simple yet exciting game! Polished by many generations of pupils, it reached perfection and it has only one drawback — "shots" of the battle are easily detected in the classroom, as opponents and then whisper: "D4!" — "Choke!" "E5!" — "Hit!"… If the teacher hears the losers are both the enemy.
Of course, this is just a joke. However, is it possible to improve this old game so that it was inaudible to outsiders?
For a start, remember its basic rules. Before each of the opponents is a sheet of paper on which are drawn two the playing field, divided into squares with letters adjacent to each row from the top and digital — on the side. Each of the players two of them: on one secretly arranges their ships on the other represent "shots" at the enemy.
The legend is as follows: four vertically or horizontally shaded cells are "battleship", three "cruiser", two "submarine" and "torpedo boat". Rules of the game is allowed to have in each fleet, one "battleship, two cruisers, three submarines and four torpedo boats". The process of the game is to "attack" the field of the enemy on coordinate system: playing alternately call letter (horizontal) and number (vertical) fields of the enemy, and the partner reports: "Choke!" "Hit!" or "Sunk!" (if "shot" last cell vehicle). And in contact with the gunman gets the right to another shot.