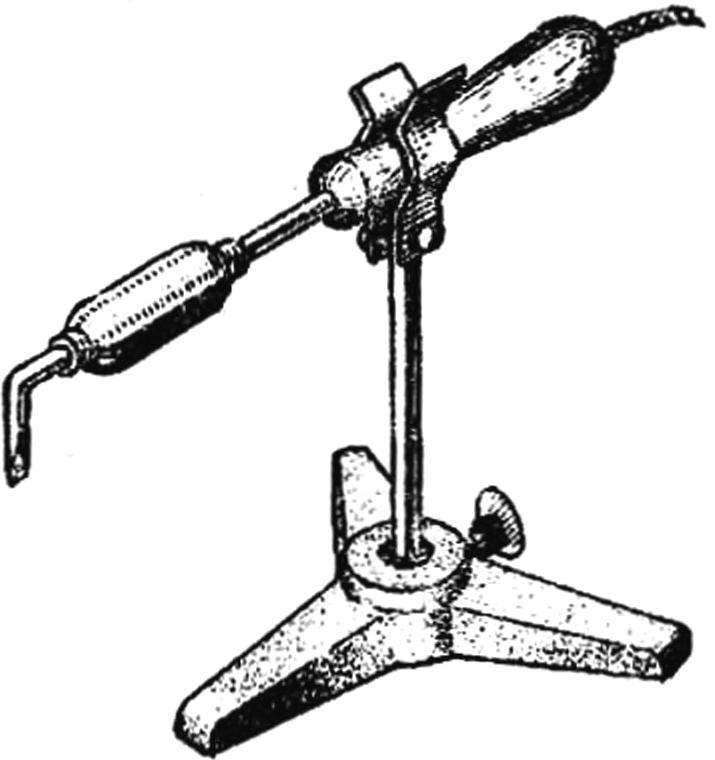 The conventional electric soldering iron (100 watts, voltage 220 V) through the use of technological replacement of nozzles turns into a versatile tool that allows you to perform several additional operations. Here is a description of several tools and ways to apply them.
Hollow drill. Commercially available drill kit for tubes consists of tubes with internal Ø 4,6 8, 10, 12, 14 mm. From one end they are pointed with the other have the handle. When drilling them cork crumbles, and rubber in the opening is tapered.
Much better results can be achieved if you use a soldering iron with nozzle made of copper or brass. The working part of it — is also a hollow cylinder, the ellipsoidal hole in the side of the surface. The nozzle is inserted into the soldering iron instead of the standard rod in after warming up and bury the tube, from time to time turning slightly. The resulting hole is so clean that it needs no further processing. The drilled part is pushed — the "peg" can serve as a separate mini-cork.
Nozzle larger diameter will help to produce high-quality tubes of thick rubber sheet. Hollow drill to easily burn holes not only in rubber and therefore can be used for punching a variety of materials. For example, to perform the role of hole punch stapling thick packets of paper, plywood, leather, plastic.
A set of cutters. They are made of copper pipe in two ways. In the first embodiment, it is incised on the centerline, one half cut, and the other is straightened and sharpened. The second taper of the two halves of the cut area, and the gap between them acarnevale a copper plate of size 30×10 mm.