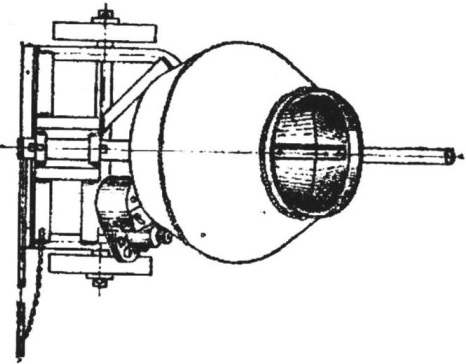 Mixer need not everyone. But it will certainly be interested in one who wants to build anything on the plot or is already building. The design of the proposed mixer is simple and available for review. It applied quite common components and parts. However, you can collect from other scrap materials, and published a description here as an example.
Mixer (Fig. 1) consists of frame, rotary device, motor, reducer, the tub with the axle and the ground.
Frame (Fig. 2) collected from inch pipes and corners. Below it is attached the axis of the wheels — a solid steel rod, Ø 43 mm, the ends of which turned up to Ø 41,5 mm. are placed Here, for example, worn rollers, crawler tractor. From falling of the wheel kept the wire pins Ø 6 mm in the Front under the base carrier is the heel — the third point of support of concrete mixer. Crowns the triangle of the frame is M-shaped design — a bed for the turntable. At its edges — the two rings-bearing with an inner Ø of 62 mm. and parts of the frame, the axle and the heel are attached by welding.
PA the front left corner-brace welded loop fastener restrictive chains (on her appointment, below), and in the front horizontal area of the drilled hole to connect the wires coming from the ground.