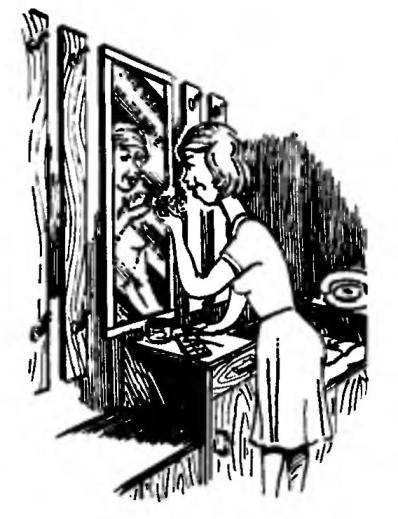 Not every house entrance hall allows the use of the proposed trade options wall-wardrobe: they tend to be designed to a spacious hallway. At the same time, even in a small hallway it is possible to rationally organize the area with a mirror and a hanger, such as that proposed by the Hungarian magazine "Earmaster" a self-made set of furniture for a small hallway. It consists of comfortable stools with a phone; tables, which can accommodate, for example, a vacuum cleaner, and the box — the necessary small things; finally kaloshnitsy, over the doors of which — the bars under the shoes. On the wall above these items are mounted wooden coat rack and mirror, completing the simple but beautiful set.
To make it on their own accessible to everyone, because all the designs are simple and do not require any scarce materials used particleboard (or furniture Board), boards, rods and strips with strips and plain furniture fittings: hinges, handles, hooks.
Now, specifically about each of the items of this set.
Bench
Its design (Fig.2) designed so that it is convenient to use the phone and put on shoes for the elderly or the children have a soft seat.
The base of the housing are degreesonline panel and the vertical sidewall, which support the entire structure. They are made of chipboard and are connected using plug-in round thorns-nails. The bottom horizontal panel has a support — bar of the DSP, and the upper relies on a partition (DSP). On the last and both sidewalls are attached to the bars, supports for slatted lattice (if it is supposed to keep the shoes) or shelves. On one of the sides, in addition, has a vertical rod decelerator device for holding hinged doors. The latter is also made of chipboard; the hinges are mounted on its bottom panel. The rear bench has a wall of hardboard or thin plywood.