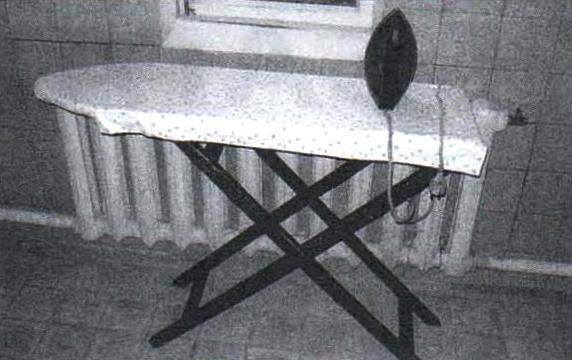 In our time, the stores sold a variety of Ironing boards: however, Chinese production is fragile, domestic – heavy, Western – honey. In the end, the whole family did my Ironing Board that has served us for several years. Its design and description for the attention of the readers. The bathroom in our house is quite spacious – 5,8 m2. On the opposite of the bath the wall is a single window of size 0,55×1,05 m2 of patterned-frosted glass window. In front of this window and placed our Ironing Board. She is wooden, foldable, but is almost always in position. Socket for iron is the right of the window.
Ironing surface is made of a wide Board, but if the right is not there, then you can take a couple of narrower boards, or cut it out of plywood of the same thickness, or pressed chipboard. Attach to the bottom Board longitudinal couple of part brackets and emphasis for the legs of the same segment of the bars, and legs, enough six suitable countersunk screws or nail the corresponding nails on top.
Pair of legs (four of them) are made of bars section 35×25 mm (after planing section made up 33×23 mm). One pair – resistant, connected by two cross ties-the jumpers (top and bottom), the other – reference, only one (bottom) because the top of their ends pivotally attached by bolts to the brackets exploded.