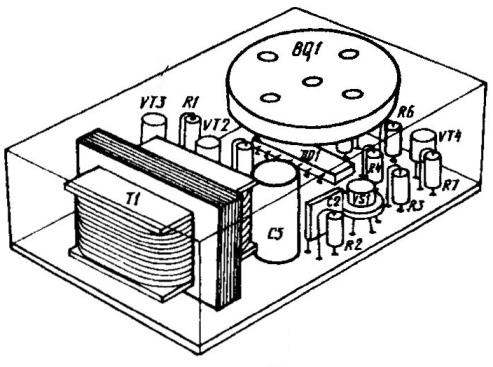 Lovers locks to open the other doors, alas, are not translated. And those who are forced to permanently leave your home unattended, not indifferent to the device that can protect a house from a ruinous invasion. A good additional remedy may, in particular, to serve as makeshift alarm "In the house — a stranger!". I designed the device alarm is triggered pushed the door lock after a short delay, duration of 15-30 s. the Unexpected and sudden signal caught by surprise villain, living beyond the threshold of what is permitted.
Indeed, in opening the lock latch presses on the stem of the microswitch SB1, closing its contacts. The resulting voltage drop across the resistor R1 through the capacitor C1, the current pulse to the control electrode of the SCR VS1. A semiconductor device is unlocked.
Open state of the SCR is kept after the return of the latch, and the contacts of the microswitch to its original position. There is like memorizing the received command. Because the voltage at the open SCR drops sharply, and to present on the inputs 1 DD1.1 and 2 DD1.1 a high signal (log.1) is replaced by a low-level (log.O). This leads to the immediate switching of the cell 2I-NOT IC (MS). In the result output 3 cells DD1.1 — the log.1.